Be honest. Are you still using that terrible backpack from your college years to get you across the United States? Do you feel like you have to hide your luggage before your boss sees you on that work trip? It's time to upgrade, and Delsey is an excellent place to start. We've got our favorite pieces from this quality line, so let's break it all down to find your next piece of luggage.

Delsey Luggage Helium Aero Reviews
Delsey Luggage Helium Aero 29 Inch Expandable Spinner Trolley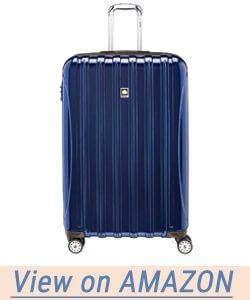 The Delsey Helium Aero line is a hardshell case designed to protect what's on the inside without sacrificing your unique sense of style. This line uses an ultra modern hardshell case in several colors with distinctive ridges and durable hardware.
29 Inch Expandable Spinner Trolley
Our first from the Aero bunch is a 29 inch, expandable trolley style with durable spinners and plenty of storage on the interior. IT comes in a variety of distinctive colors and features a TSA accepted locking system.
Materials
The polycarbonate exterior is excellent for storing even some delicate items because it can stand up to even the angriest luggage loaders. It's safe to stack and won't crack under pressure or extreme temperatures. It features a deep metallic finish in multiple colors and reinforced handles.
The wheels move in all directions and are reinforced for optimal stability. The handle locks into place, and the entire suitcase resists cracking at all major weak areas.
Design
The interior features two fully lined compartments with lots of pocket space to organize all your things. Webbed straps keep things in place once you've packed and zippers offer further reassurance you won't open your bag to a mess.
The outer design allows you to expand the case up to two inches when you need some extra space. The wheels move 360 degrees so that you can pull or push the luggage into place without placing any weight on your arm.



Pros
outer material resists cracking
excellent interior storage
expandable
Delsey Luggage Helium aero Carry-on Spinner Trolley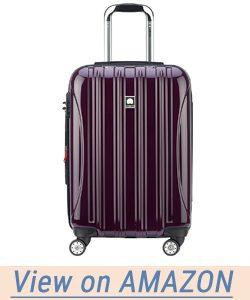 The carry-on option features the same durable exterior and color choices of the full-sized bag but in a smaller size for approved carry on luggage. It has wheels to help take the load off and plenty of interior storage and organization to keep all your things together.
Materials
It uses the same polycarbonate material that makes the full-sized bag so durable. Although this could interfere with packing it into a full overhead bin, you know that this one won't rip or tear halfway through your journey.
The telescoping handle is reinforced and locks into place for safety. Wheels are highly durable and spin 360 degrees to increase stability and keep them from breaking. The deep metallic finishes are scratch resistant and easy to wipe clean.
Design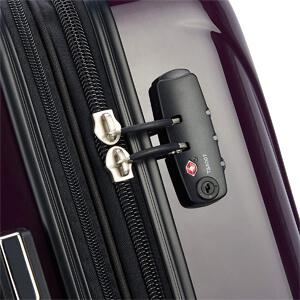 It has a similar design to the large bag, but there's no possibility for expansion. This keeps it slim for packing into even the most strict carry-on flights but you if you decide to gate check at the last minute, you know it can withstand force similar to bags twice its size.
The wheels give you a lot of flexibility for movement, but they keep weight off your arm and shoulder through smooth, flexible movement. Inside, two fully lined compartments keep contents organized with zippered pockets and webbed straps to prevent contents from spilling during transit.
Pros
carry-on compliant
fully crack resistant
flexible interior storage
Cons
hardshell may be inconvenient for crowded bins
Delsey Luggage Helium aero 25″ exp. Spinner Trolley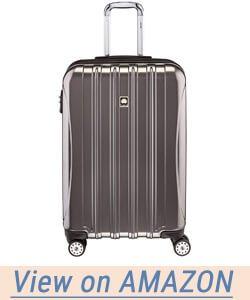 The 25-inch option from this same line is a slightly streamlined luggage choice that features that beloved crack-resistant exterior with 360-degree wheels and a retractable handle. It can expand, giving you some flexibility without compromising interior protection.
Materials
It features a polycarbonate exterior in a deep metallic finish that is completely crack resistant and withstands pressure. The handle is reinforced to prevent weak spots or breakage at the telescoping joints.
The wheels are a castor style to give them not just flexibility but durability. Putting pressure on single direction wheels can cause them to break, a problem you won't have with this particular style of wheel.
Design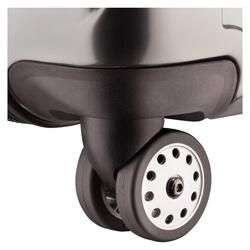 The wheels are designed to help take pressure off your arm by allowing you the flexibility to move in all directions. The expandable feature gives you two extra inches on those long trips but zips back up for when you need to pack light and keep everything organized.
You get two compartments inside with enough storage to organize everything. Zippered pockets and webbed straps keep the interior arranged and prevents things from spilling during your trip. No more opening up your bag to jumbled contents.


Pros
slightly smaller for better transport
expandable
durable exterior
Delsey Luggage Helium Aero With Front Pocket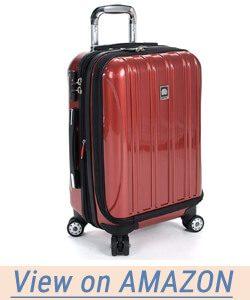 Finally, exterior storage. If an exterior pocket is a dealbreaker for you, this is one aspect of the line that should satisfy. This carryon is small enough to meet even strict rules but features a pocket to keep essential items front and center.
Materials
Still the same polycarbonate exterior that protects your contents and gives you plenty of durability. It's scratch and crack resistant and wipes clean easily with just a wet cloth. The wheels and handle are reinforced to counteract common weak spots in luggage and prevent something from breaking in transit.
Design
The exterior pocket gives you space to pack things like electronics and paperwork in a padded pocket that will protect while still offering easy access. This is convenient if you travel for business and need to keep your work close at hand while still packing for overnight travel.
It still fits in overhead bins although the hardshell case may make full bins difficult. The interior has pockets for organizing everything and keeping things from spilling around during transit. Wheels are omnidirectional to help with positioning and make it easier on your arm and shoulder.
Pros
the front pocket is suitable for storage
durable exterior
carry on compliant
Cons
the hard shell is difficult on crowded flights
Delsey Luggage Helium Shadow Reviews
The Shadow line is another lightweight offering from Delsey with plenty of storage and a durable exterior. The styling is a little more classic where the Aero is slightly more aggressive, but it does offer plenty of options just like Aero for protection and organization.
Delsey Helium Shadow 3.0 29″ Expandable Spinner Suiter Trolley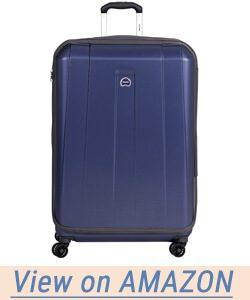 The first of this line is a 29-inch piece of luggage with a hardshell exterior and plenty of storage. It has a matte, textured finish to prevent scratches and comes in a professional deep blue.
Material
It uses the same hard shell plastic, known as polycarbonate for a durable exterior, but this version is a brushed matte finish to avoid scratches. It still protects without cracking and resists tears. It wipes clean easily with just a wet cloth.
The retractable handle is reinforced to prevent breaking at the joints and locks into place for stability. The wheels spin 360 degrees to avoid breakage and to avoid stressing the wheel connection.
Design
The extra space is great for longer trips when you'll need to be checking luggage but want to protect the interior. The interior features compartments to contain all the things in an organized way while preventing them from spilling around in transit. The expandable exterior gives you plenty of room, and the top loading feature gives you access to packing even in small spaces.
The TSA approved lock allows them to inspect your luggage but keeps your contents safe from thieves. The wheels are durable and let you move in all directions with far less pressure on your arm and shoulder. They're silent and allow for quick direction changes.
Pros
matte finish doesn't show scratches
plenty of interior space
comfortable handle
Shadow 3.0 21 Inch Carry-On Exp. Spinner Suiter Trolley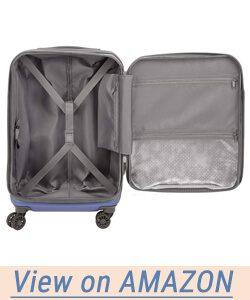 The carry one has a large front pocket nestled into the polycarbonate exterior. It's durable but gives you enough space to pack for trips in your carry on without risking getting flagged for violating carry on dimensions.
Materials
The polycarbonate exterior is really durable and allows you to take your luggage with you, but also gives you the flexibility to check it at the gate without worrying if you decide to. The handles are reinforced to help prevent damage at common weak junctions. The wheels are also enhanced and spin around to help avoid stressing the connection.
The material resists cracking and can be wiped clean with wet cloth. It doesn't show scratches or marks and the interior uses a durable fabric that keeps your contents safe without tearing.
Design
The exterior pocket allows you to separate your things between materials you may need on the flight and what you're carrying with you for overnight trips or emergencies. It makes it really easy to access the contents you need. The hardshell is excellent for making sure your contents are protected, but it may be difficult to wedge it under the seat in front of you or in a crowded bin.
Straps keep contents in place and help prevent a huge, confusing jumble when you open your suitcase up at your destination. Zippered pockets keep things from getting mixed up and gives you plenty of options.
Pros
hardshell is ultra durable
the front pocket is good for organization
doesn't show scratches or marks
Cons
hardshell is less flexible on crowded flights
Shadow 3.0 International Carry-On Expandable Spinner Suiter Trolley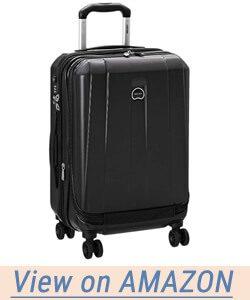 This is about the most space you can have without trying to slip one past the gate attendant. It features a durable, hardshell exterior with an interior fabric that resists tears. Plus, the expandable option gives you some choices for different kinds of trips.
Materials
Polycarbonate is such a versatile material, and here, it upgrades a carryon to something more durable. It comes in a sleek, matte finish that won't show scratches or tears. The interior is durable nylon that's soft enough to pack delicate items, but won't break down under heavy use.
Traditionally weak elements are reinforced such as the joints for the telescoping handle or the wheelbase. Zippers are heavy duty, and it features a TSA approved lock that allows proper access but still protects against thieves.
Design
It has multiple compartments to help you organize all your things, which could be great for those who often travel for business and pleasure. You can have easy access to your necessary items while keeping other things safe and secure.
Straps and zippered pockets keep thing secure, so you don't end up with a confusing mass when you open your bag at your destination. The bag is expandable so that you have a little more space for longer trips.
Pros
expandable carryon is really convenient
ultra durable exterior
plenty of compartments for organization
Cons
no smaller exterior pockets for small items
Delsey Helium Shadow 3.0 25-Inch Expandable Spinner Trolley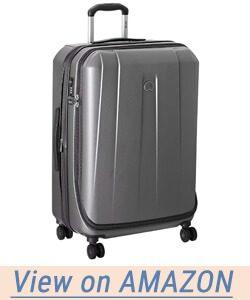 Our final Shadow option is a medium sized hardshell bag with a matte black finish and a durable exterior. It's top opening and offers plenty of organization with a durable nylon interior.
Materials
Polycarbonate offers plenty of protection against impacts during flights and loading. It doesn't show scratches or marks and wipes clean easily. Even in extreme temperatures, it shouldn't crack or tear even at weak points such as corners.
Durable zippers move in multiple directions and positions without snagging. The handle is reinforced and retracts for safety. Omnidirectional wheels resist impact and won't break under force or stress the way single direction wheels sometimes will.
Pros
plenty of storage
the matte black finish is ultra durable
heavy duty zippers
Cons
not a lot of expandable space
Delsey Helium Sky Review
Sometimes you need well-made, soft-sided luggage with plenty of durability. It uses simple materials with micro ballistic fabric that won't tear or scratch. It has wheels and retractable handles for easy maneuvering.
Sky 2.0, Large Checked Luggage, Softside Spinner Suitcase
The first style of soft-sided luggage is a more robust option that uses durable materials and has a neutral color scheme. It's a great back up bag or enjoyable for those who want something unassuming but durable.
Materials
Ballistic fabric resists tears even with abusive materials. It has plenty of pockets with soft interior fabric and durable zippers that won't snag or tear. The wheels are reinforced for plenty of durability, and they move smoothly and silently.
The interior is zippered and has a material that wipes down easily with just a soft cloth. It uses corner protectors to help reinforce a weak spot on most soft-sided suitcases, and a kick plate keeps down other types of wear and tear.
Design
The design is basic, but it gets the job done. It has a lot of interior space that helps keep things organized, and it expands naturally to give you more options. The zippered pockets keep things together and with plenty of space to stick all your items.
It masters keeping stuff organized so that nothing gets jumbled during transit. It's an excellent budget option that gives you plenty of storage without sacrificing quality. It's a workhorse of a bag that will get you to your destination all in one piece.
Pros
organized interior
durable exterior fabric
offers some stretch
Sky 2.0, Carry On Luggage, Suitcase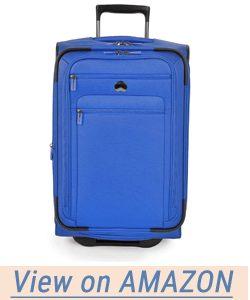 The carryon style uses the same flexible fabric in a suitable carry on style. It has plenty of zippers and interior storage plus lots of durable materials. It's great for taking on a crowded plane because it has some structure but can still squish a little.
Materials
It uses a ballistic fabric that resists tearing and can withstand even the angriest TSA agent. It has zippers for secure storage without dragging or snagging. The interior is easy to wipe clean and stays looking like new even with lots of use.
The handle and wheels are reinforced. Since this is a common weak point in most suitcases, it can be challenging to keep them new. This style shouldn't let you down even when you're dragging it through the airport for a short layover.
Design
This one gives you a bit of leeway for squashing in a full overhead bin. It has plenty of storage despite its small size, and it has plenty of zippered storage for keeping things organized. Nothing should move around even when you're throwing it under a seat, so you'll get to your destination with everything in the same place you put it.
Pros
plenty of storage
durable exterior material
expandable
Cons
not very protective of delicate items
Delsey Luggage Helium Chatelet Hard+ Review
The Chalet line is an ultra-designed set meant to mimic the old world luggage classics. It features materials that look high end with colors that stand out instead of blend into the background. Even though it looks lux, the materials achieve some of the highest standards for durability.
21 Inch Carry On 4 Wheel Spinner Champagne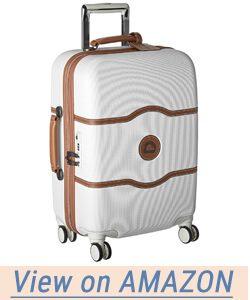 The first option is a beautiful champagne color scheme with ultra durable materials and heavy duty zippers. It has a stop and go break system that prevents your bag from running off and keeps everything together with plenty of interior storage.
Materials
This line uses the usual polycarbonate but a much higher end style that should give you the most protection of just about anything on the market. It's highly crack resistant and also resists scratches and marks. Your luggage will continue to look pretty clean even with heavy use.
Wheels are multidirectional for ease of movement, and the retractable handle is reinforced to prevent common weak spots such as the joints where it retracts. IT's fully lined with a soft, material in a beautiful red that won't tear.
Design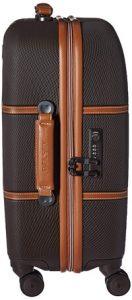 The white and brown of the exterior is reminiscent of those who traveled in the height of aviation. It's gorgeous and stands out in a sea of black bags so that you always know exactly which one is yours. The other option is a lux black and brown option with a faux leather option.
The interior has plenty of storage with zippered pockets and straps to keep everything together. It's lined in soft, buttery material in a striking red that screams luxury. Everything is considered in detail, and it has plenty of character that won't get lost in the crowd.
Pros
standout color scheme
striking interior design
ultra durable exterior material
Cons
white may still show some marks
Hard+, Medium Checked Luggage, Hard Case Spinner Suitcase, Chocolate Brown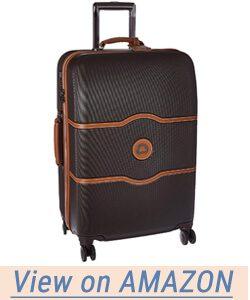 The next bespoke style luggage is a hardshell case that uses a darker color scheme with a textured finish that won't show scratches or marks. It also comes in the lighter champagne as well for more impact. It's lined in the same luxurious fabric as the first option with plenty of storage and rolling wheels.
Materials
The exterior is a virgin polycarbonate, which is one of the highest levels of durability and faux leather accents for a truly luxe look. It uses silent running wheels that can turn quickly and are reinforced to prevent breaking.
The liner is also very durable. It has a very high-end appeal and color scheme, but it won't tear easily. It helps keep everything protected without you having to baby it. Zippers and the handle are ultra durable and won't break down.
Design
This one has a really high-end look. The design mimics the look of an old steamer trunk with materials on the higher end of the spectrum. The difference is that they won't break down like some of those genuinely high-end materials.
The interior features plenty of zippered storage and compartments to separate everything out and keep things from getting jumbled up in transit. The wheels are really well made and move quickly, changing directions without having to maneuver very much. It reduces pressure on your arm and shoulder and helps keep the entire system feeling light.


Pros
well made
high-end design
organized interior
Hard+, Large Checked Luggage, Hard Case Spinner Suitcase, Chocolate Brown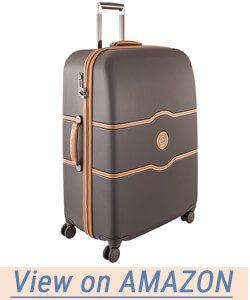 This option is the same style as above, but it's a larger option with more storage. It comes in both the champagne and the darker color scheme but gives you the most room to pack. Everything is intricately made, and this could be the type of luggage you keep for the rest of your life.
Materials
The same polycarbonate, the virgin type that offers you the highest durability. It won't show marks or crack under pressure, and despite its expensive look, it can withstand more abuse than some other bags on the market.
The zippers move in several directions and resist tearing and sticking. The interior fabric is striking but very durable. Wheels and handles are reinforced to prevent weak spots, and the wheels have the same silent operation as the others.
Design
The design is just the same type of luxury as the smaller sizes, but it offers the most space for you to pack. The two larger compartments allow you to pack for longer trips, but they do have separate spaces with zippered pockets and straps to keep everything in place once you get things set it. Stop and go breaks prevent it from getting away from you and a TSA approved lock keeps contents safe.
The whole thing is probably the last piece of luggage you would have to buy. It's a beautiful piece of design that stands out in the airport and will never get lost among a sea of plain, budget, black bags


Pros
plenty of storage
reinforced handle and wheels
lined interior
Delsey Luggage Helium Titanium Review
The Titanium design uses an ultra durable material that resists both cracking and impact even in extreme temperatures. It's aggressively designed and features a high shine that won't show scratches or wear and tear.
Titanium, Carry On Luggage, Hard Case Spinner Suitcase, Graphite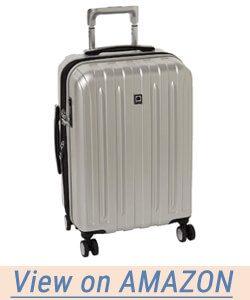 Our first suitcase of this style is an aggressively designed carryon that uses a tactical style design to produce a durable piece of luggage. It has a fully lined interior with two compartments to keep everything organized.
Materials
The outside is polycarbonate, an impact resistant material that can withstand a lot of abuse. You shouldn't experience any cracking or tearing, and scratches won't show up either. It wipes clean easily and stands out with plenty of shine on the conveyor or in the overhead bin.
The zippers are reinforced, and the handle is heavy duty. It won't tear or crack at the joints. When wheels are omnidirectional which takes pressure off their connections and helps them withstand a lot of abuse.
Design
Hardshell cases sometimes have trouble with storage, but this one offers you plenty of compartments with zippered pockets to keep everything in place. wEbbed straps secure clothing and items in the main compartment to keep things from shifting.
The wheels move silently and change directions quickly without adding stress to your arm or shoulder. A recessed TSA approved lock keeps the interior safe while allowing the agent to inspect your luggage when they need to.


Pros
aggressive design
hardshell protects contents
impact resistant exterior
Delsey Helium Titanium 25 Inch Exp Spinner Trolley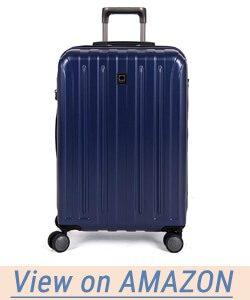 This slightly larger luggage option comes in an equally aggressive design. It's got a lot of storage and uses plenty of reinforced components to keep the luggage going throughout the years.
Materials
The slight sheen of polycarbonate is a really durable material that can resist impact and cracks. Even when the temperature is soaring on the tarmac, this one can withstand the abuse. The handle and wheels are reinforced and well designed to take impacts of frequent use. They move silently and flexibly.
The suitcase is scratch resistant and wipes clean easily. The interior uses a durable material to prevent tearing but still protects the contents and keeps things really organized.
Design
The organized interior gives you a lot of space despite the hardshell exterior. Zippered pockets and two compartments keep things in place as do webbed straps. You won't get everything all over the place even in transit so everything will stay right where you packed it.
The wheels move so well that it can keep all the pressure off your arm and shoulder. It moves with you easily and can take those quick moves that you sometimes have to make when you're running through an airport. Plus, you'll never lose it on a conveyer belt.
Pros
aggressive design
durable exterior
lots of storage for a hardshell bag
Delsey Helium Titanium 29″ Exp. Spinner Trolley Metallic Hard Case Suitcase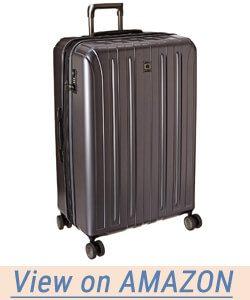 The next option is a slightly larger bag that's suitable for much longer trips. It features the same exterior material in multiple colors that won't get lost on a conveyer belt. Plus, it's light considering the size so you may not have to struggle as much to carry it.
Materials
Polycarbonate is a durable plastic material that resists impacts. With luggage this size, that's important for keeping things clear and making sure that your bag can stand up to transit through airports.
The interior is a durable nylon blend that wipes clean and keeps your contents completely safe. It has enough storage for all your things, but the zippers and seaming should last the life of the suitcase, something that you can't say about every suitcase out there.
Design
With plenty of zippered pockets and two larger compartments to divide your things, it's a rolling suitcase with enough storage to get you through even your longest vacation. It rolls well and keeps pressure off your shoulder and arm. Plus, the handle and wheels are reinforced for durability.
It comes in a variety of colors to match your personality so you can choose a neutral color for unassuming travel or something you can spot easily. Either way, it's up to you.
Pros
lots of storage
excellent mobility despite the size
heavy duty zippers
Cons
no exterior storage for small items
19″ International Carry-On Expandable Spinner Luggage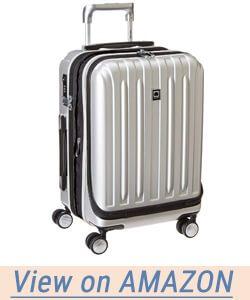 The 19-inch carry on is a well designed, hard shell bag in a smaller size suitable for you commuters out there who travel light. It allows you to organize all your things easily and expands in the middle to account for longer trips.
Materials
The bright materials use the same polycarbonate for durability, but this one comes in three fun colors. The silver is our favorite because it never gets lost, but it doesn't show wear and tear despite its light color.
The middle expands using a nylon blend material that can withstand impact even when deployed. Overall, it gives you lots of durability and may be the last piece of carryon luggage you ever buy.
Design
You have the option of adding two extra inches in the middle, giving you enough storage to get through several days without checking luggage. The zippered compartments keep everything organized and prevent delicate items from becoming damaged in the main compartment. There's even a padded sleeve to protect your laptop. Plus, a TSA approved lock keeps things safe.
Retractable handles and omnidirectional wheels take the pressure off your shoulder and arm and keep you from having to put the weight on your back to get through the airport. It's well designed, organized, and one of our favorite pieces of carryon luggage at this price point.
Pros
expandable in the middle
plenty of organized storage
reliable design
Cons
harder to access contents on the go
Final Thoughts
Delsey has great luggage in a variety of price points and designs. We know that you'll find your next piece of grown-up luggage and will be able to stop carrying that tattered bag from college. Upgrade to something that allows you to get all your things from one place to another and won't embarrass you the next time you run into your boss or meet your ride from the airport. Happy Travels!