Baggallini makes design-worthy bags at prices you can actually stomach. Their bags balance fashion with utility so well you'll wonder where they've been your whole life. We've got a list of our favorite Baggallini to help you try to narrow down your choice, but we promise you're going to love them all.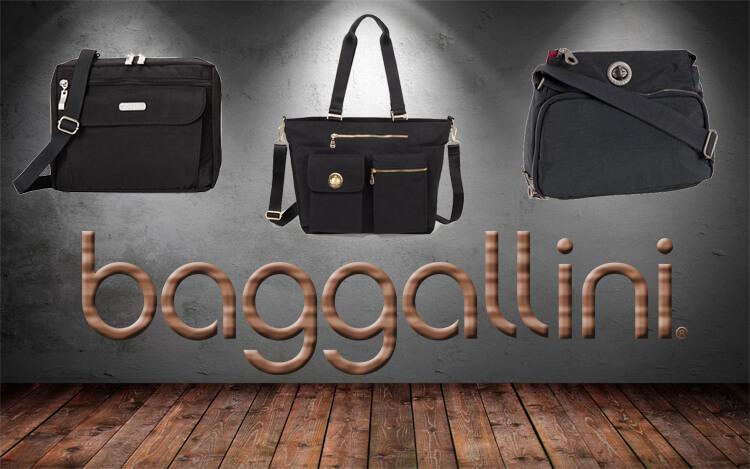 Baggallini was started by two flight attendants who were tired of not having exactly the right bag to keep up with their travels. They designed Baggallini to accommodate a wide variety of storage options with plenty of dedicated pockets to organize all their little accessories. Bigger bags still have proper storage so things wouldn't get lost in the bottom, leaving them wondering where their passports got off to.
You can take advantage of their expertise with a bag designed for the traveler. All the storage options and design choices make it easy to keep up with everything, alleviating the anxiety that you've left your home and forgotten something important. Each one is easy to clean and resists both water and tears.
Designs vary so let's see which one may be the right one for you. Consider how much you carry on a daily basis so that you can make the best decision possible.

Baggallini Urban Backpack Review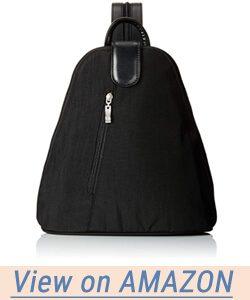 Our first style is an urban backpack with a slim profile and plenty of storage. It's made from durable materials and well stitched, giving you the confidence to carry it through a variety of situations from commuting to the weekend.
Design
It has a simple triangular design with two slim straps. It hugs your body tightly, staying in place even when you're on the run. The exterior features a leather material on the straps with nylon on the body.
The inside is a soft camel color with easy to see storage, but we wish the straps were padded a little more.
Features
The interior has pockets all along the sides of the bag to give you room for smaller items such as cards or your phone. It relieves the necessity of carrying a purse because you've got all your storage wrapped up inside. It can hold a book or two or other accessories such as an umbrella for a rainy day. The exterior pocket keeps essentials in easy reach. The mouth of the bag opens wide enough to give you room to maneuver despite its slim design.
Benefits
The smaller design is great to replace your purse or expand your options if you plan to be out for the day and need a durable bag that can carry your purse items plus a few extras. It's durable, and the nylon is mildly water resistant to help keep your interior mostly dry.
Drawbacks
It's not a full sized backpack, so students won't be able to use this one to carry much more than an iPad or a single book. Also, we aren't sure what we'd put into the front pocket because it gives thieves easy access (maybe gum or something non-valuable)


Quick Look
Who It's For: Someone who needs a plus-sized purse
Pros
durable exterior
plenty of organizational space
Baggallini Criss Cross Crossbody Bag Review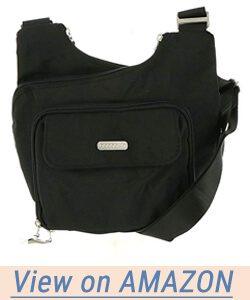 The Criss Cross bag is a crossbody style instead of a backpack. It also uses highly durable, water-resistant material with plenty of internal storage.
Design
Crossbody bags are great for situations when you don't feel safe having a bag on your back. You can swing it to your front for better protection or shift it slightly to the back to be out of the way. It's soft, flexible nylon with durable zippers and a smaller front pocket to keep essential items accessible.
Features
The interior features multifunctional pockets and four credit card slots. It has enough storage to keep your purse items wrangled plus a small bottle of water or book. It also has an adjustable strap to accommodate a variety of shoulder widths and body heights.
Benefits
It's suitable for day travelers and those who like a more organized purse system because it keeps things organized and protected from rain. It features an RFID lining plus plenty of storage options, keeping everything within easy reach. The adjustable strap keeps things comfortable regardless of your body type.
Downsides
It's not going to win any awards for design. Instead, the bag prioritizes function over form for a bag that gets the job done and keeps coming back for more. IF you're looking for a statement piece, this isn't the one.


Quick Look
Who It's For: Day travelers and people who hate digging through messy purses
Pros
well designed storage
adjustable
water resistant
Cons
phone pocket isn't deep enough
Baggallini Messenger Sling Organizer Shoulder Backpack Review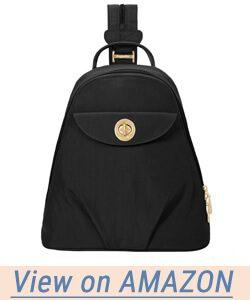 A messenger sling is a stylish option for those who need a cross between the convenience of a messenger and the comfort of a backpack. It has a design that keeps everything within easy reach and is durable enough to move with you day to day.
Design
Half a cross body and half a messenger, this one has a really comfortable sweet spot that distributes weight evenly across your back, so you don't feel it as much when it's in place. It's easy to turn around when you need something and then put back into position to get back on the road. The interior has logical pockets to help wrangle small items plus pockets on the front and back. It can store a few more books or purse-sized items.
Features
It has multiple sizes and designs of pockets so that you don't run out of places to store your things. It's highly water resistant and features durable zippers that can take some abuse. The strap adjusts so that it fits whatever body type you happen to have. It comes with a free two in one keychain that also functions as a purse light.
Benefits
The material is really light but a ripstop style, so it's puncture and tear resistant. You don't have to lug around a heavy canvas or leather, but you do have the same amount of durability. Also, it's convenient to position correctly to take the stress off your pack and redistribute the weight correctly.
Downsides
The strap can end up rubbing your neck if it isn't adjusted correctly because there's no padding. You may find yourself changing the fit or position more than you'd like to. As long as you don't overload the bag, it shouldn't slow you down too much.


Quick Look
Who It's For: Commuters and students who need a more stylish bag
Pros
easy to maneuver
good storage
ultra-durable material
Baggallini Avenue Tote Top Handle Bag Review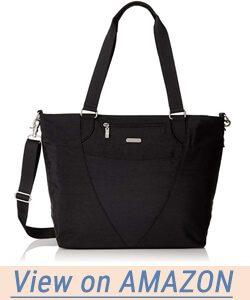 The Avenue Tote Top is a deeper, bucket style bag with lots of interior space and durable exterior material. It's a better functioning handbag with a durable interior that includes a laptop pocket. It's suitable for those times when you need to really up your bag game and consists of a lot of extras.
Design
It mimics more prominent designers in giving you a handbag with plenty of function and style. The exterior is a very durable material that's water-resistant and resists tearing.
It's very lightweight, at just nine ounces when empty, so it won't weigh you down when filled. The color doesn't show dirt, and the handles are comfortable to hold or wear across your arm.
Features
It measures about 8.5 inches tall and wide with an adjustable strap for when you want to go hands-free. It's very light, but still has plenty of storage through dedicated pockets for credit cards and various electronics. The open middle can store a change of clothes or other larger essentials. It's not customizable, but you should have plenty of choices for how to arrange your different accessories.
Downsides
The strap is a bit uncomfortable after a while, especially if the bag is loaded to the brim with stuff. We do like the simple color scheme, but it would be nice to have an adjustable middle organization scheme considering how much space there is.
Quick Look
Who It's For: Serious bag lovers and those who pack their whole lives inside their purses
Pros
lots of space and storage
good design principle
durable material
Cons
the shoulder strap is uncomfortable
Baggallini Hobo Tote Review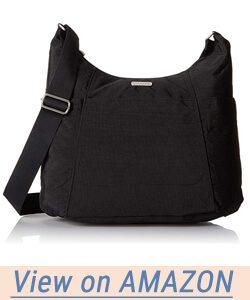 We love a good hobo tote. These types of bags never go out of style, and they offer so much storage for your things that it's hard to say no once you've got one. This hobo tote is durable and gives you plenty of room.
Design
The hobo style is a naturally slouchy bag, which is a nice casual alternative to some of the tailored handbags you use in more professional settings. It has plenty of storage, allowing you to throw a water bottle or an extra tee shirt down into the bottom without it getting into the way. It's tear-resistant nylon that also resists water and has several open pockets for things like your phone or keys.
Features
It comes in a variety of color combinations to satisfy every taste. It has five credit card slots, an adjustable crossbody strap measuring 52 inches, and the package includes a mini pouch to wrangle smaller items such as that lipstick you're always losing.
Benefits
It's casual enough for every day use and keeps everything from getting lost in the bottom with dedicated storage compartments. The coordinating mini bag helps you keep up with things you tend to use and put away multiple times a day. The polyester lining is also easy to wipe clean.
Downsides
It doesn't hold its shape as well as some other bags, so if you've got a really heavy day, it tends to look a bit more shapeless. Also, the water bottle pockets may not stick out as far, but they do push into the interior when full, reducing the overall interior space just a hair. Not a big deal, but it may get annoying on days when you need all the space you can get.
Quick Look
Who It's For: Casual, everyday travelers or parents (i.e., people with a lot of little stuff)
Pros
good storage options
casual style
two water bottle pockets
Cons
bottle pockets are awkward
Baggallini Cinch Backpack Review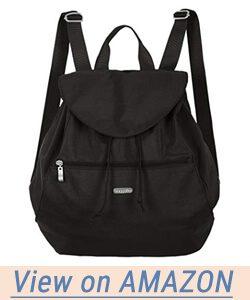 The Cinch backpack is another stylish option with a more feminine shape and functional storage with the bucket style interior. It's durable, water resistant, and safe to carry with the added drawstring feature.
Design
Backpacks sometimes have a critical flaw. It's easy to unzip the exterior without someone noticing. The cinch backpack has a top flap that secures and a drawstring feature that closes the mouth of the bag tightly. It uses really durable nylon that's 100% water resistant and also resists tears and punctures.
Features
The straps are thin but adjust to position the bag so that the weight of the bag isn't all on your back. It has plenty of storage on the inside with dedicated pockets for things like credit cards, electronics (including tablets) plus other interior storage.
A small zip pouch on the front keeps things right within reach, such as gum or earbuds, so that you don't have to undo the tie to get into the larger storage compartment each time.
Benefits
It's more designed than a traditional backpack with the flap lid and drawstring features. It's highly durable so you can carry it with you during your commute or while traveling. Water resistant and tear resistant fabrics keep the interior mostly dry.
Features
It has a removable coin purse for smaller items. The wrist strap allows you to take it in with you while you're shopping without having to hold on to it the whole time. The front zipper is a good touch for keeping things like gum since you know you'll want to have access to it without disassembling your drawstring each time.
Downsides
Drawstrings are inconvenient for day to day stuff. If you're using this bag as your school bag, you're going to get frustrated with that closure. The front pocket isn't suitable for carrying valuable items because there's no way to lock it. Also, be careful how much weight you put inside because the straps aren't padded at all.
Quick Look
Who It's For: Day travelers or commuters who don't have to open their bags up all day long.
Pros
un design
drawstring closure offers more safety
good interior storage
Cons
straps can be uncomfortable
Baggallini Triple Zip Bag Review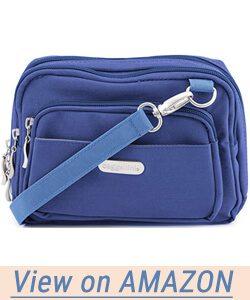 The Triple Zip does double duty with a three in one design. It can convert from a crossbody to a wallet to a waist bag in seconds flat. It has a durable exterior and plenty of dedicated storage for smaller items.
Design
The crossbody bag is great for when you want to keep your hands free and day to day purse needs. The straps remove entirely so you can convert it to a wallet for when you need a bigger bag for other things, like a day at the beach or taking it to school. The waist belt option gives you the chance to wear the bag close to you.
Features
The strap is plenty long enough to wear on your shoulder or across your body for most people. It's removable but not adjustable. The interior has plenty of dedicated pockets and compartments for all your credit cards, cash, and even storage for small electronics. It's just over five inches high and eight inches wide.
Benefits
We love a convertible bag that can go with us whether we're ready to lighten up or pack everything and the kitchen sink. It's nice not to have to switch purses completely but just take this one out of a larger bag when we need things to slim down. Also the exterior and interior wipe clean really easily.
Downsides
There aren't many downsides other than the unfortunate addition of a waist option. Kidding. This is a great little bag, but we do wish it had just a simple wrist strap for when we want to carry it with nothing.
Quick Look
Who It's For: Quick change artists, people who don't know what their day to day schedule is going to look like.
Pros
three in one bag
logical storage options
durable material
Baggallini Everyday Bagg Pacific Review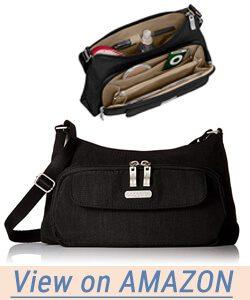 If you need a simple purse, this is the one. It has a smaller profile and a strap with plenty of length. It's longer than it is deep, so things never get trapped in the bottom and no one ever has to go looking for that elusive chapstick or set of earbuds.
Design
Sometimes you don't need a giant bucket to carry all your stuff. If you're anything like us, you'd like to be able to see all your smaller things without digging, and this is the bag for that. The compartments have dedicated slots for electronics, credit cards, and change while the simple strap goes across your body to keep the bag closed. It also has a simple open pocket on the back for keeping things in immediate access.
Features
The strap is thin and stays out of the way most of the time. There aren't any handle straps, but that doesn't bother us. The larger compartment can hold a bigger wallet or some accessories while the front functions as a replacement wallet if you don't carry a separate one. It's ten inches long but just over six inches wide.
Benefits
It doesn't weigh a lot empty, so it'll help you slim down your things when you just need a simple purse. It takes up very little space but offers you a lot of storage and organization in return. It's best for daily use when you don't need to carry a lot.
Downsides
It's going to be frustrating to carry if you've got a lot of stuff (hello moms!) and there's no handle option to convert it to a handbag although the shape lends itself to that. It does have some excellent organization, but only for smaller items.
Quick Look
Who It's For: Daily purse carriers, those with only a few things to wrangle each day.
Pros
good organization
open exterior pocket
comfortable shoulder strap
Baggallini Horizon Crossbody Review
Our final bag is a crossbody with a simple silhouette and trendy pattern. We fully believe that animal prints can be a neutral and this bag does prove that point. It has a durable exterior material with pockets and comes with a wristlet.
Design
The lightweight bag has a few different pockets, including two on the exterior, to keep things within easy reach. The long strap is adjustable to different heights, and the bag itself keeps a slim profile. It's designed to be out of the way until you need to get something. We particularly like how it hugs our body without feeling like it's always in our way.
Features
It has plenty of dedicated interior pockets considering how small the bag actually is. It also features a coordinating wristlet for taking things on the go or when you go really minimal and don't need anything more than a few credit cards and your phone. It's hard to imagine downsizing a bag like this, but there are definitely times that call for the absolute minimum.
Benefits
It's small. Sometimes you need something that's unobtrusive and simple to carry around. It's not going to carry everyone's things, but for those time when you need little more than your essentials, this one is a good option. Plus, the design never goes out of style.
Downsides
There isn't a lot of space. You can convert the wristlet to a small wallet to put into bigger bags, but for the most part, you're stuck unpacking a smaller purse to load into a larger one if you need to expand your storage. Consider how much you need to carry and how much you actually do carry on a daily basis before making a decision.
Quick Looks
Who It's For: Minimalists. There isn't much room for anyone else.
Pros
light
excellent dedicated pockets
includes a wristlet
Some Tips For Choosing
Choosing the right bag depends on a few different things.
Make sure your storage needs are met. Just because you want to be a minimalist doesn't mean you can actually pull it off. If you continuously overload your bag, it's time to upgrade to a larger one. Once you embrace the switch, the organization of Baggallini's designs will help keep everything in sight.
Determine how you want to carry. BAckpacks are convenient to carry, but they aren't often suitable for accessing your things. Similarly, shoulder bags are convenient for access, but they tend to be in the way if you're moving around a lot. Take a close look at the activities you're needing the bag for and make a decision that balances those two conveniences.
Decide on safety. If you like to carry your sensitive items in an exterior pocket, try to make sure the pocket is on the back of the bag, or that the bag fits very close to you. Anyone can take things out of a backpack, but it's much harder to do if you always have the purse in eyesight or the pocket is close to your body.
Include needed accessories. Do you often switch between different styles of bags? A strap that's convertible can help you satisfy that need without having to change bags altogether. Another option would be a coordinating wristlet or purse that can hold smaller, essential items. You can drop it into another purse or bag, or just carry it with you when you need to travel ultra light.
Consider the price. Lucky for us, Baggallini is highly affordable so you shouldn't have to choose between your wallet and your new bag. They're designed to be reachable for a wide variety of people and offer a lot of value considering how cost-effective they really are. Many are tear resistant and have durable zippers, so you should get years of wear out of your Baggallini.
Final Thoughts
Baggallini has so many quality bags for such affordable prices that it's hard to choose just one. We think you'd be fine choosing more than one to fit your situation.
Whichever you decide, you'll have plenty of storage for all your smaller items and never again scramble to find your wallet, passport, or favorite lip balm.
The design of each bag is quality, yet durable, with a timeless element that won't ever go out of style. Each type should last you many years with regular use, and we wouldn't be surprised if you're entirely hooked after purchasing your first one. Down the road, you may find that having more than one option satisfies everything you need to get out of the house and see the world (or at least, that cute new coffee shop).
Which bag was your favorite and where do you plan to travel with it? Let us know in the comments below!