Buying a purse for traveling is a bit more complicated than buying one for casual, everyday use. For one thing you want to make sure that the purse is durable because you don't want to be far from home with a bag that has ripped open, lost a strap or popped a zipper. You will want it to be lightweight yet durable for all of the activities that you have planned. You will want it to be able to get through security if you are flying. You want it to be roomy enough to hold whatever you consider your essentials but not so large that you are knocking things over with it everywhere that you go. You can choose from a variety of styles and materials. Your choice may also depend on where you are going and what you will be doing.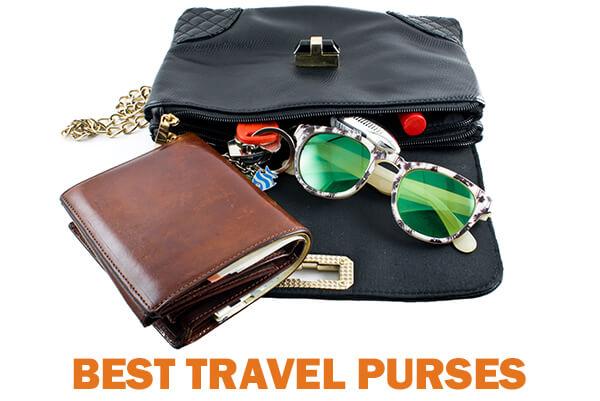 When you travel you are putting yourself in an unfamiliar situation. You might have extra concerns about your safety and rightly so. According to the CleverTravelCompanion.com, a web site that gathers information for travelers, there are roughly 600,000 incidents of pickpocket related crimes worldwide. That is only an estimate because many go unreported or undetected. In this modern world, where technology is so prevalent, there are other risk factors that we may encounter sometimes without ever even knowing about them. One of these is called RFID skimming and it involves using an electronic device to "read" the radio frequency identification chips on the cards in your wallet. These small chips can be found on everything from credit and debit cards to personal identification cards like your driver's license.
Information from these cards can be retrieved electronically and the thief doesn't even have to be close to you to make it happen. There are purses and wallets that have protection against these types of crimes which should be a consideration for your next purchase whether you are a frequent traveler or not.
While function is definitely something you want to consider, fashion is probably high on the list of things you want from a purse. Thankfully, there are purses in many styles, colors and materials that still give you the security that you need, the durability that you want and all of the practical and aesthetic extras you could hope for.

Review Travel Purses of 2019
#1. The Minicat Roomy Pocket Series Crossbody Purse/Wallet: Best Travel Purse for Organizing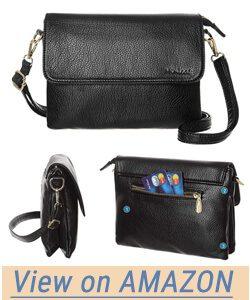 The Minicat Roomy Pocket series crossbodycomes in two different sizes, small and medium. The larger of the two is still on the smaller side and makes a good wallet or cell phone purse for the very bare essentials and small items. It is available in several color choice all with gold hardware including zippers, snaps and decorative pieces. Some color choices have RFID protection while others do not. The material is a synthetic leather treated to have a soft, slightly embossed texture. Each has multiple pockets and a number of internal card slots to keep your items securely in place and organized.
Color Choices
This crossbody purse comes in the following colors:
Black in both small and medium. The medium has RFID protection
Beige in both sizes. Both have the RFID protection
Royal blue. Only in small. No RFID protection
Brown in both sizes. RFID in small only
Brown with black trim. Only in small
Champagne gold. Only in small with RFID protection
Coffee, one size
Dark Blue, one size
Dark red, one size
Dark Silver, small and medium with RFID in medium.
Light purple
Mint green
Pink
Purple
Red
White
Is This a Recommended Purse?
The crossbody purse is a good choice especially for travel because it is worn across the chest. The wearer can place an arm across the body of the bag especially in a crowd to prevent anyone from trying to open it. This one provides enough room for a cell phone, identification cards and cash as well as one or two other small items without being bulky. Available in two sizes and more than a few colors, this purse is stylish without being flashy and will allow you to bring what you need wherever you may be going.
Pros
Lots of color choices including classic neutrals and some brighter, bolder choices as well
Classic gold hardware including zippers and snaps
Crossbody design is comfortable and secure
Two sizes to choose from
Synthetic leather is easier to care for and less expensive
Cons
The magnetic snaps in the front may not securely fasten.
Zippers may break easily on this purse
Some people have had issues with the "leather" flaking off after only a few months of use
#2. Volganik Rock Crossbody, Multipocket Travel Purse: Easiest Care Travel Purse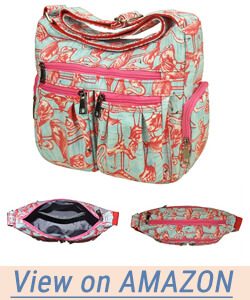 The Volganik Rock comes in two sizes (Standard and Large) as well as in several colors. It is made of a nylon oxford fabric that is easy to care for. It can be wiped clean with a damp cloth for small smudges but may also be able to be washed in the washing machine for more serious dirt. The strap is double layered for security and is fully adjustable for the perfect fit.
Color Choices Available include:
Flamingo print
Hot Pink
Coffee
Army Green
Azure
Black
Dark Blue
Khaki
Floral
Purple
Red
Note: not all colors come in both sizes.
Interior and Exterior Pockets and Compartments
Each of the Volganik Rock crossbody purses have interior and exterior pockets and compartments. The Standard size has: 1 main zippered compartment, 3 pockets in front and one in the back, a pocket on each side and 1 zippered pocket in the interior. The Large size of this purse has all of these compartments with the addition of a second, large size interior pocket.
Is This a Recommended Purse?
Meant to be used as a crossbody purse this is a good choice for traveling especially if you want something that will hold a bit more than the typical style. Two size options lets you choose exactly what you need and the color choices are bright, bold and classic. The price tag is low enough that you can afford to have several of these classically styled purses to suit all of your day to day or travel needs or to match your favorite outfits.
Pros
Inexpensive
Water resistant material is easy to care for with a damp cloth or machine wash as needed
Lots of color choices
2 sizes to choose from
Plenty of compartments to help keep your items organized
Cons
The nylon strap can sometimes fray or break even with minimal use
Some reports of zippers that break, jump track or stick
#3. The Peak Gear Travel Crossbody Purse: Best Bonus Service, Best Product Guarantee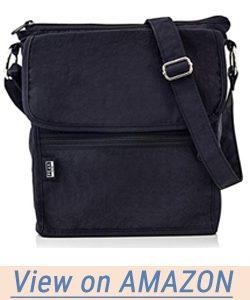 In addition to security features like a hidden RFID pocket, this crossbody purse from Peak Gear features a bonus, lifetime lost and found identification tag and service from ReturnMe. ReturnMe is listed as the world's largest company of its kind with a 80% return rate on items ranging from purses and wallets to keys, electronics and more. The service gives you a tag that is clipped or secured to the item of choice. That tag has a unique security code that is registered to you via the ReturnMe website. If someone finds your item they can follow the simple directions on the tag and your item is returned to you, usually in 48 hours. Your personal information is safe and the finder gets a reward for returning the item.
In addition to this service, Peak Gear offers a lifetime guarantee on the purse itself.
Features of the Purse
Made of 210D ripstop nylon, this crossbody purse is water repellent and can be wiped clean with a damp cloth as needed. The strap is also nylon and padded for comfort. It can be adjusted to the perfect length. The purse has several pockets with magnetic closures. It only comes in one size and is only available in black.
Is This a Recommended Purse?
In addition to being easy to care for and stylish, the bonus security features and lifetime guarantee for this crossbody purse make it worth every penny. It is durable, lightweight and still manages to hold all of your essentials and keeps them neatly organized as well. This is a good purse for every day casual use as well as for travel.
Pros
Hidden RFID pocket
Lifetime service with ReturnMe helps to insure that you will get your purse back if it is ever lost, anywhere in the world
Durable, rip stop nylon material is easy to care for and is water repellent
Strap is adjustable and padded for comfort
Cons
Only available in one color
#4. Travelon Anti-theft Signature 3 Series Crossbody Purse: Best Security Features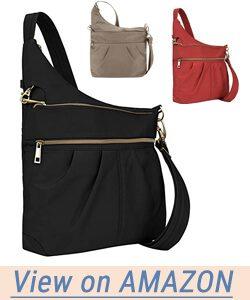 The Travelon Anti-Theft, Signature 3 Series crossbody purse features 3 locking compartments meant to stop pickpockets from easily accessing the contents of your bag. The main compartment also has RFID blocking capabilities and a passport slot. A tethered key clip and LED light makes it easy to secure your keys and find them easily even at night. An additional rear zip pocket gives you an extra place to stow your items.
Protection Beyond Just Identity Theft
The Signature 3 Series addresses potential identity theft with the RFID blocking slot however there are other threats that are more common. The company uses stainless steel mesh that is sandwiched between the outer and inner layers of material. This mesh protects against slash attacks where someone could either try to slash at the strap to pull the entire purse away or may slash at the bag itself to get the contents to spill out.
Note: it is important to inspect this purse frequently as the mesh may sometimes poke out of the material and may cause injury.
Color Choices for the Signature 3 Series Include:
Black and white with small flower print
Geometric tile on a dark blue background
Stripes
Black with a teal lining
Black and white striped
Blue
Cayenne
Dark grey with floral lining
Dark bordeaux
Light sand
Eggplant
Navy and light sand
Black and Gold
Ocean and gold
Sable and gold
Smoke and Gold
Teal
Is This a Recommended Purse?
Most pickpockets prefer to make their move without alerting anyone to their actions but that does not rule out the need for slash resistant materials especially for the strap of your purse. The RFID protection and securely fastening compartments make this a great choice for people who are traveling to areas were these types of crime might be more prevalent. It is one of the more expensive within this brand, however.
Pros
Color choices including neutrals, brights and patterns
Slash resistant material
RFID blocking
Compartments with locking zippers
Adjustable shoulder strap is also slash resistant
Cons
Pricier than other purses this brand carries
Stainless steel mesh may poke through the material and cause injuries or may snag on other items
Zippers may stick or pop
#5. Baggalini Horizon Crossbody: Best Bag Set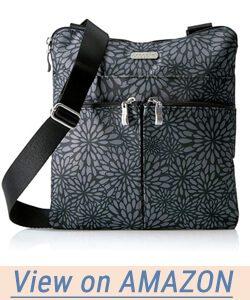 The Baggalini Horizon Crossbody purse comes with a small, matching wristlet so that you always have the right sized bag for all of your needs. Use the crossbody for regular use and the wristlet for quick errands or combine the two so that you have everything that you could possibly need for travel, daily use and more.
The Horizon comes in a number of colors and prints and features three pockets (1 that zips) and 5 card slots. This purse does not feature RFID protection. It is made of nylon and can be wiped clean with a damp cloth as needed.
Color Choices Include:
Pewter
Floral print
Black
Apple
Beach
Black diamond print
Black zebra embossed
Charcoal
Eggplant
Firework print
Leopard
Pacific
Periwinkle
Pewter with floral embossed print
Is this a recommended purse?
It does have a number of good color and print choices making it very stylish but it is on the pricey side for a nylon bag and it may not work as an actual crossbody for some people because of the shorter straps. The wristlet is a nice bonus but may not be enough to justify the extra cost.
Pros
A lot of color choices
Bonus wristlet can be used on its own or with the crossbody bag
Cons
A bit pricey for a small, nylon purse
The main bag does not hold very much
The straps are adjustable but may not be long enough to work as a cross body purse for many people
#6. The Travelon Anti-theft Classic Essential Messenger Bag: Best Messenger Bag with Security Features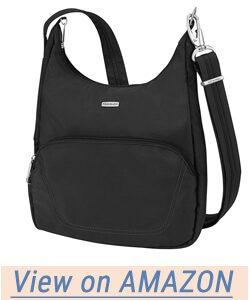 The Travelon Anti-theft Classic Essential Messenger Bag has many of the same features as the Travelon Signature 3 Series Crossbody with more room and the comfortable styling of a messenger style bag. In addition to having the same slash proof material and straps, this messenger bag is also less expensive than the crossbody purse.
The RFID blocking and passport slots are present in this bag as are the removable LED lights and key clip.
Color choices include:
Black
Black and white floral
Geometric tiles on a navy blue background
Stripe
Black with a blue floral lining
Black with a coral lining
Black with a dark sand lining
Black with a purple lining
Black and white stripe
Blue
Blue snake print
Ebony
Grey
Midnight
Nutmeg
Nutmeg with a coral lining
Purple
Rock
Splash
Cheetah
Wine
Is this a recommended purse?
For people who like the concept of anti-slash materials but did not like the price of the Travelon Signature 3 Series crossbody purse, this may be the right solution. Significantly less expensive with the same security features and more color choices this purse also has the more relaxed messenger bag style that will hold more without becoming overly bulky. There may be enough room in this bag to hold a small tablet with room left over for other personal items.
Pros
Messenger styling is more casual
Slash proof material and strap
RFID blocking
LED lights allow you to find what you are looking for even in the dark
Plenty of color choices including several lining options
Cons
May not be very durable
Stainless steel mesh may poke through the material and cause injuries
#7. Firu Handmade Shoulder Bag: Best One of a Kind, Handmade Travel Purse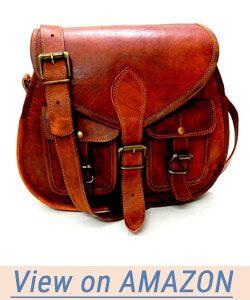 The Firu Handmade Shoulder bag is handmade, brown leather crossbody style handbag with a vintage, rustic look. All leather pieces are processed to be chemical free and then are hand sewn. The metal buckles and other accent are rusty in appearance to keep with the vintage appearance.
It is important to note that because the leather is all natural, there will be natural variations to the color and appearance. Genuine leather also has a distinctive smell which may be overwhelming for some people. This handbag has 3 sections inside.
Is this a recommended purse?
As a travel bag, this may be less than ideal. There are no security features here and the natural leather smell can intensify in certain conditions such as when it is warm or when the weather is damp.
Pros
Handmade of genuine leather
Chemical free processing
Cons
No security considerations
Leather may have a smell that is too much for some people
There have been some complaints of used items including a tea bag and more found inside of these purses despite the being listed as "new"
#8. Fabuxry Purse: Best Budget Friendly Purse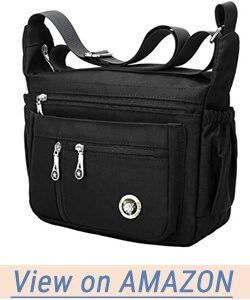 The Fabuxry purse is a lightweight nylon with multiple zipper pockets and an adjustable strap. It is available in a number of different colors. It is inexpensive, easy to care for and can be used for travel or every day.
Colors that are available include:
Black
Green
Grey
Khaki
Navy
Purple
Rose
Red
Fabuxry guarantees this purse for 1 year with a free return or replacement if it fails in any way.
Is this a recommended purse?
This is a lightweight purse with easy to care for nylon and an adjustable strap. There are a number of zippered pockets to help keep things organized and relatively secured. Elasticized side pockets let you have easy access to things that you use frequently. It is inexpensive and available in 8 different colors. The company will accept a return or offer a replacement for one year.
Pros
Inexpensive
Easy to care for, lightweight nylon
Multiple pockets including several zippered ones
Elasticized side pockets
8 colors to choose from
Cons
Material is not durable
Straps may loosen over time
Straps frequently fray
The lining may separate from the outer shell over time
#9. Kah & Kee Polyester Backpack: Best Waterproof, Travel Backpack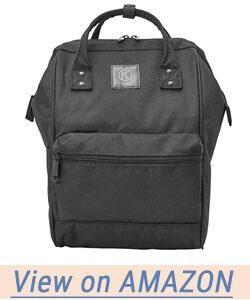 The Kah & Kee polyester backpack is available in 2 sizes, small and large. Its material is lightweight and waterproof. Both sizes feature a front zipper pocket and 2 back zip pockets. The left side of this backpack has a side zipper pocket while the right side's pocket is an open design. The interior has 2 open compartments, 1 zipper compartment and a separate laptop compartment with a 12 inch, soft pad for protection.
The shoulder strap is sturdy and adjustable. There is also a side pocket hanging loop for identification tags or other items. The company offers a 1 year replacement on this backpack.
Colors that are available include:
Black
Black and grey
Camo
Deep grey and yellow
Light gray
Light grey and pink
Navy
Royal blue and yellow
Navy striped
Tricolor (Red, black and white)
Yellow
Is this a recommended purse?
Good for travel, daily use for students and others, this backpack is large enough to hold the average laptop computer and has a soft pad to help protect it from damage. It is waterproof which is great for travel to areas where frequent rain or other moisture could be a problem. The colors are bright and fashionable. The shoulder strap is sturdy and adjustable for comfort. Kah & Kee offers a one year replacement for any issues related to this backpack.
Pros
Lots of colors
Two sizes to choose from
Lots of pockets and compartments help you get organized
1 year replacement
Cons
No security features for this backpack
#10. Scarleton Multipocket Shoulder Bag: Best Classic Design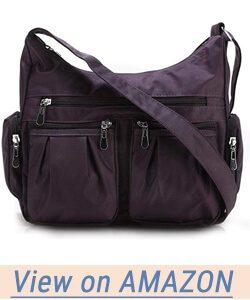 The Scarleton shoulder bag has the classic design elements of an everyday purse and features multiple pockets and a top zipper. The material is durable, easy to care for oxford with a fabric lining. It can be spot cleaned with a damp cloth. All hardware including zippers and buckles are silver for a classic look. In addition to the roomy interior there is a small cell phone pocket inside and a small side zippered pocket outside. This purse is available in purple, burgundy, coffee and black.
Is this a recommended purse?
If the plan is to use this as an everyday carry, casual purse it is okay. For travel it does have some positives like holding plenty of stuff and being easy to care for but it lacks any type of security features and does not have multiple pockets for organization.
Pros
Classic design
4 color choices
Cons
This purse may have an offensive odor that is not reduced with time or cleaning
Lining may pull away from the exterior shell
Travel Purses: Buyer's Guide
While you can find a purse that is perfect for both travel and everyday, casual use there may be some features that are more important to you when you are going far from home. For instance, you might want a more substantial, durable purse for travel. Security features may also be more important to you while traveling. These are the key things to look for when choosing a travel purse:
Style
Material
Security features
Style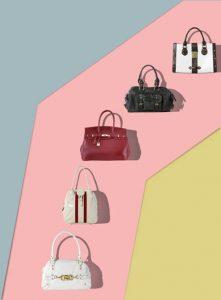 There are many different styles of purses and handbags. From crossbody to backpack styles, wristlets, clutches and traditional shoulder bags, you can find different shapes and styles to fit your needs. While traveling, you want a style that allows you to carry your purse hands free, be able to maintain contact with it and still be able to carry other items with you. A crossbody which is worn with the shoulder strap diagonally across the chest is a good style for a travel purse. The body of the bag should hit at your waist or hip and should stay close enough to your body that pickpockets will think twice about trying to grab items from it.
A backpack style purse might be okay if it features locks or complicated zippers so that people cannot stand behind you and rifle through your belongings before you are even aware of them being there.
The Material
After choosing the right style for your travel purse, you will need to consider the type of material. Natural materials like leather are classic and durable but they may not be right for the type of climate you will be going to and can have a strong odor that some people may not care for. Material that is lightweight and easy to care for is a bonus. Nylon purses can typically be cleaned with a damp cloth and these may be water repellent.
Many purses can also be given a special treatment so that they are water repellent.
Security Features
For a purse that you are planning to use for travel, this may be the most important feature of all. You want to be sure that you are not going to fall victim to bump and grab attacks so a sturdy, rip resistant strap is key. Pickpockets take advantage of open designs or purses that have easy to open closures.
The more packed your purse is the less likely you might be to notice that someone is going through your items.
RFID skimming is another type of security concern. While many companies are now moving away from those types of chip cards, some are still in use. Anyone with a reader could get enough information from your personal cards to steal your identity and may be able to rack up charges before you even realize there is a problem. Wallets and purses use special slots to shield the id cards, credit and debit cards and others from these readers.
Regardless of the features that you have, it is important to always stay vigilant and remain aware of your surroundings at all times.