A good garment bag will get your suits, dresses and other clothing items to your destination with little to no wrinkling,odors or problems with moisture. A great garment bag will do all of that while allowing you to pack other items and reducing the amount of bags that you are carrying to and from airports or to cars. The perfect garment bag will be the one that allows you to travel in comfort and security and arrive looking professional and stylish. There are several factors that you need to look at when choosing the garment bag for your needs. Two of those factors will be type and amount of travel.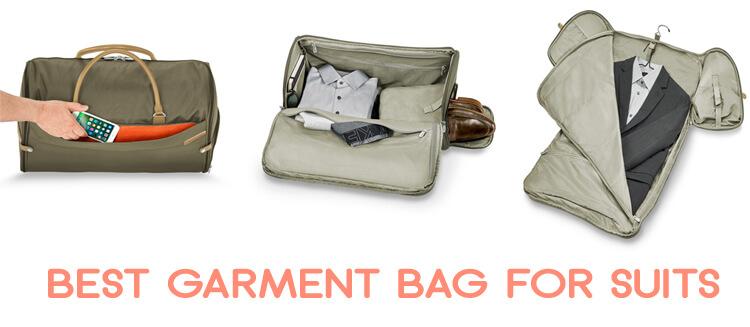 If you go mostly by cars wherever you are going, your garment bag can be of virtually any size. As long as it will hang up securely, you are good to go. However, if you are traveling by airplane you will need a bag that can be folded to fit in the overhead bin to count as a carry on bag otherwise you will be forced to check the bag with the other luggage. This will slow down your travels as you wait for your bags to come down the carousel but more importantly, it will show you how much garment bags lack in terms of super durability.
Checked bags are casually tossed from place to place. Hooks and hangers tend to snag on to everything around them and can cause the bags to get snagged or even come open.
What's worse is that these bags are not designed to handle outside pressure so if yours ends up on the bottom of a pile it is likely that your suits and other items are going to be hopelessly creased.
Most of the following bags fold and then zip for easy carrying which should allow them to fit as a carry on bag. Exceptions to this will be noted within the individual review.

Best Garment Bag for Suits Reviews 2019
ZEGUR Suit Carry On Garment Bag for Travel & Business
Waterproof material: constructed from fray-resistant 1800D Polyester.
100% money-back guarantee, if for any reason you're not totally satisfied.
An interior dual buckle holds your garments in place.
Has an adjustable and detachable shoulder strap.
WallyBags Extra Capacity Garment Bag with Pockets
600 Denier Polyester.
WallyLock hanger clamp holds up to 8 garments.
Two extra large pockets for packing shoes, pants, sweaters and other accessory items.
Can be used as a carry-on item for most airlines.
Unique Bella Carry on Garment Bag
Work perfect as a 45L duffel bag.
At the left side pocket is a shoes pouch.
Water resistance & scratch-resistant.
1800D Cationic waterproof fabric.
Geoffrey Beene Deluxe Rolling Garment Bag
Made from 100% Durable 1200 Denier Polyester.
Bag has inline skate wheels and telescopic handles.
A variety of compartment sizes make it easy to stash your shoes or clothing without hassle.
Prottoni 40-Inch Garment Bag for Travel
Made from rugged 600D Polyester.
Extra Large Pocket for Laptops and Documents.
2 Internal Pockets for Accessories, Shoes and Ties.
A metal hanger for quick hanging in the car or hotel
---
Zegur Suit Garment Bag: Best Organizational Garment Bag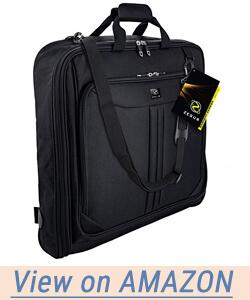 Made of a waterproof, 1800 denier polyester exterior with full interior lining, this black garment bag has plenty of storage pockets and organizational tools to help even the most frazzled business traveler on track no matter how many trips they have to go on throughout the year. This is a fairly good sized bag that will hold up to three suits or dresses with ease.
Interior Pockets Galore
There are a total of 4 pockets inside of this garment bag, three of them of the same size and 1 that is slightly larger. Two of these pockets have zippers, one is a mesh, zippered pocket and the other closes with Velcro.
In addition to these pockets, there are three interior straps to fasten over top of your clothing. The top and bottom of these straps have adjustable buckles while the middle strap is fixed.
Exterior Pockets
The exterior of the bag features a double, zipped pocket which has a slide in pocket, several pen holder slots and card slots for your identification and credit cards. A large strap along the bag allows you to slide this bag on to the handle of wheeled luggage. The bag can be carried with the dual handles at the top or by the adjustable shoulder strap.
Is this a recommended?
The bag itself is fairly durable however there have been some reported issues with the zippers. The Zegur company offers a 100% money back guarantee, however so your risk is minimal. As a bonus, the customer service for this company is top notch.
Pros
Strong, waterproof polyester exterior
Lots of pocket allows you to use this as your only bag for shorter trips
100% money back guarantee
Cons
Zippers may be an issue
Bag may not work for some larger or longer items of clothing
The Modoker Convertible Garment Bag/Duffel Bag 2-in-1: Best Convertible Bag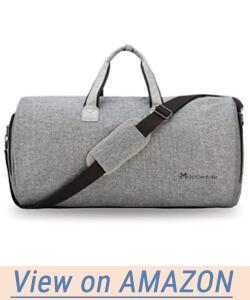 Billed as a 2-in-1 bag, this garment bag by Modoker actually offers three options: as a garment bag, a hanging suitcase or as a duffel bag. Once in the folded, duffel bag position there are pockets on either side. The left side pocket is a shoe pouch while the right side pocket is an organizational pocket meant for your passport, keys and other needs.
The bag is made of polyester fiber and jacquard meant to be water and scratch resistant and will also resist tearing under most circumstances.
Straps and Other Features
In addition to two fixed handles, there is an adjustable, detachable shoulder strap to allow hands free carrying. A wide strap in the bag of the bag allows it to be attached to luggage.
Inside of this bag there are 2 pockets plus a thinner, necktie pocket. It is available in either grey or black and has a 1 year guarantee.
Is this a recommended?
Before buying this or any other garment bag it is very important to know what type of items you will be using it for most often, how it will be carried and then to read the measurements given for the bag. Err on the side of caution whenever reading any measurements because they can be wildly inaccurate in some cases. This bag does run a bit smaller than the stated measurements and may not work well with longer coats, jackets or dresses.
Pros
Available in grey for people who are sick of only black
Several pockets inside and out for extra items
Can be used open as a garment bag or closed as a duffel
Cons
Is smaller than listed
Not a good bag for longer items including dresses and coats
Hardware could be of higher quality
Wally Bags Extra Capacity Garment Bag with Pockets: Largest Garment Bag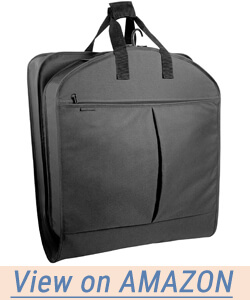 The Wally Bags extra large capacity garment bag comes in either black or navy blue. It features the uniquely designed "wally lock" system which allows you to use your own hangers in this garment bag. Simply hang your clothed on the hanger of your choice, place them in the locking clamp and they are secured by the wally lock. This bag will hold up to 8 garments with 2 extra large pockets that allow for extra items to be packed as well.
The bag is made of water resistant polyester and has a full length side zipper for easy packing and removal of your items. There is not a shoulder strap for this bag. Wally Bags covers this garment bag with a 3 year warranty.
Is this a recommended?
If you are someone who tends to need more than the standard garment bag can handle, this may be a good bag for you but there are some things to remember. Because of its size it is unlikely to be be allowed to be used as a carry on for most airlines. Because of its design, it may not work well as checked luggage. Another thing is the "wally lock" which is the only way to lock in the hangers in this bag. If this lock fails the bag becomes basically useless.

Recommended for people who typically travel by car but not for frequent flyers.
Pros
Holds more than twice what the average garment bag can hold
Additional pockets allow you to pack shoes and other essentials
Full length zipper for convenience
Three year warranty
Cons
Too large to use as a carry on bag for most airlines
Uncomfortable to carry because of the design of the wally lock
If the locking system fails the bag is useless
Unique Bella Carry on Garment Bag: Unique Color Choices for a Garment Bag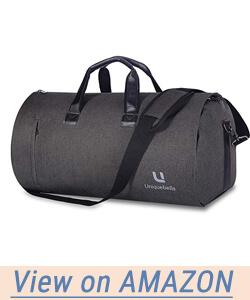 While most garment bags are available in black only, the Unique Bella garment bag is available in either grey or a light brown. the material is 1800 denier fiber and is waterproof with a full interior lining. The shoulder strap is adjustable and detachable and there are 2 fixed top handles for carrying convenience.
The bag fully opens so that you can pack with ease and features 2 inside pockets plus a necktie slot. Once it is zipped closed the bag can be folded in to a duffel bag.
Is this a recommended?
The color choices are interesting and could be a deciding factor for someone who just cannot deal with yet another basic black garment bag. The design is good and the bag holds the standard number of suits or dresses in theory. Longer items may not fit well.
Pros
Colors beyond basic black
Can be used as a garment bag or as a duffel
This company has excellent customer service
Cons
Zippers seem to fail frequently on this bag
Longer items may not fit in this bag
Dalix Business Garment Bag: Best Garment Bag for a Budget

While the price on this basic garment bag is one of the lowest, it still has plenty of standard features you would find in bags two and three times the price. It is expandable so it can hold between 1 and three suits with ease. It has adjustable straps and leather padded handles for easy carrying. There are 3 exterior pockets and 4 interior pockets. The material is waterproof.
Is this a recommended?
If you are an infrequent or a first time traveler on a budget this could be a good choice as a garment bag for you. For those who are often flying the friendly skies it is unlikely that this bag would hold up for very long.
Pros
The price
Many of the same features as higher priced bags
Cons
Poor quality especially the material and the zippers make this a less than durable bag
Geoffrey Beene Deluxe Rolling Garment Bag: Best Wheeled Garment Bag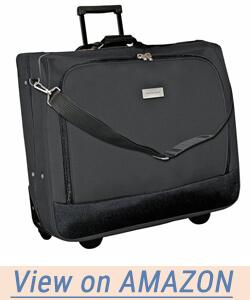 Most garment bags come with a strap that allows you to attach them to your luggage for easy carrying and convenience. This garment bag by Geoffrey Beene has its own inline skate wheels as well as a reinforced, telescopic handle. The bag itself is made of 1200 denier polyester.
The bag has a detachable and adjustable, padded shoulder strap plus top carry handles. The interior features shoe pockets, a zipped mesh area and several sections for smaller items. The bag is available in both basic black and olive green.
Is this a recommended?
If you want a garment bag that is going to be your only luggage but are concerned about having to carry it, this might be a good solution for you. However, it is important to determine if it can be used as a carry on or not because it may not be sturdy enough to handle being checked luggage. It is also fairly pricey for a bag that may not be able to be used as intended unless all of your traveling will be done by car.
Pros
Wheels and a handle are a great addition to the basic garment bag
Plenty of pockets and storage spaces for a variety of small items
Cons
This is a fairly expensive bag
May not fit airline guidelines for carry on luggage
May not be durable enough to be used as standard luggage
Prottoni Garment Back: Best Garment Bag With Snagless Zippers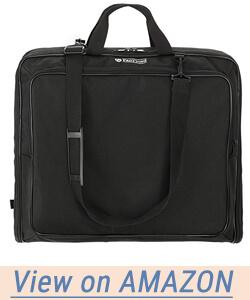 This basic black garment bag by Prottoni is made of water resistant, 600 denier polyester and has three, snag free zippered pockets. In the very front of the bag is a pocket for shoes and other items. Behind that is a second, zipped pocket intended to be used for a laptop and its accessories. There are two additional pockets inside of the bag.
Straps and Handles
The shoulder strap is both adjustable and detachable while the top handles are reinforced for strength. A wide strap along the back allows this bag to be attached to your luggage when traveling with multiple bags. Three adjustable straps buckle across your clothes to keep them secure and virtually wrinkle free. This bag will hold up to three suits.
Is this a recommended?
Of the few complaints lodged about this bag, the general consensus is that it is a good bag just smaller than expected. It is important to know the measurements of what you are buying and to determine when you should err on the side of caution and when you can trust the numbers that are given to you. Overall, it is a well designed bag with the basic features you would expect of a garment bag.
Pros
High quality, snag free zippers
Plenty of pockets including one that is meant for a laptop computer
Water resistant material can help protect clothing if you are caught out in the rain between stops
Cons
Might be smaller than expected
Magictodoor Extra Capacity Garment Bag: Best Warranty, Best Customer Service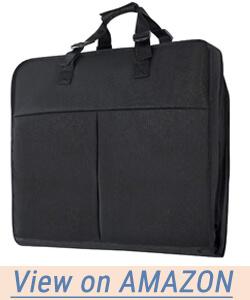 This extra capacity, basic black garment bag can hold up to four garments. Each garment's hanger can be slipped through the reinforced fabric loops so that they do not fall out. A zipper runs the entire length of the side for easy access to your clothing during the packing and unpacking process. The top handle is fully adjustable and can be used as either a top carry or fully released to shoulder strap length. It cannot be detached.
This garment bag comes with a lifetime warranty which requires no return of the faulty item to be honored. Customer service is very responsive for this company as well which makes the process even easier.
Is this a recommended?
If you are a frequent flyer who needs a larger bag, this can be the right bag for you with some caveats. First, the quality of the bag is not top rate and it may not be as durable as you need. If you are flying more than two or three times a month this bag may fail you. Despite the lesser quality of the material, the customer service department is more than happy to help get replacement bags to people so that they are satisfied.
Pros
Solid, lifetime warranty backed by excellent customer service
More capacity than the average garment bag
Cons
Not entirely as durable as one would expect
Gyssien 2-in-1 Convertible Travel Bag: Best Unique Material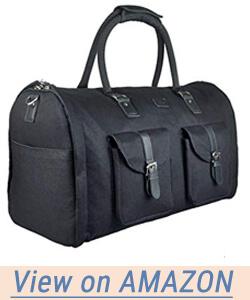 While most garment bags are made of polyester or similar materials, this convertible bag is made of 100% custom made, cotton blend denim. It can be used as either a traditional garment bag or as a duffel bag.
Pockets and Straps
This bag has three exterior pockets on the front as well as an open mesh pocket on the side. A zippered slot pocket on the inside is meant for ties.There are 3 other interior pockets as well. The shoulder strap is adjustable and detachable.
Is this a recommended?
The material is interesting for this bag and seems to be far more durable than the typical nylon or polyester used for others. Since it is cotton it can be wiped clean with a damp cloth. All complaints seem to be centered on the zippers which can mean user error or poor quality zippers. In either case, the company does offer exchanges or money back if there are problems.
Pros
Better quality material
Plenty of pockets
Can be used as a garment bag or as a duffel bag depending on current needs
Cons
Zipper issues are a frequent complaint
Golden State Ink, Folding Wardrobe Carrier: Best Organizational Garment Bag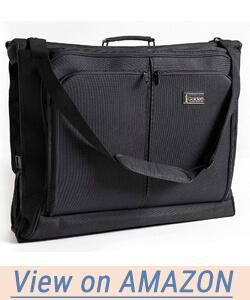 This garment bag is made of 1800 denier, water resistant polyester. The strap is adjustable and removable. There are top handles as well. Pockets on the outside of the bag include two large, zipped pockets in front plus another on the back. Behind the front pockets is another, expandable zipped section that was designed to hold a laptop computer and small accessories. There are two removable pouches for the interior of the bag as well. The bag can hold up to 4 suits.
Golden State Ink offers a full 100% money back guarantee if you are not fully satisfied with this garment bag for any reason.
Is this a recommended garment bag?
This bag has all of the standard features you would expect from a garment bag with only one very minor exception. (It lacks a strap on the bag to fasten it to luggage.) It has plenty of pockets for organization and benefits greatly from a full money back guarantee if it fails for any reason.
Pros
Great money back guarantee
Plenty of pockets on the outside of the bag helps keep you organized
Polyester material is water resistant
The Garment Bag – Buying Guide
There are many important factors to consider when choosing a garment bag. The style of travel that you engage in most often can play an important role here because obviously there are going to be differences in how bags are handled in cars vs. airplanes. Here are the things that you should look at for your bag choices:
Durability and Material
Straps and Handles
Pockets and Other Organizational Tools
Hardware
Will it Work as a Carry on Bag?
Durability and Material
A garment bag needs to be reliable especially if you are using it as your only bag for a trip. The right material will be strong but lightweight, breathable from the inside but with a water resistant or even better, a waterproof exterior. Stitching should be even and straight and should go the entire length of all sides of the entire bag. Extra stitching and reinforcements should be placed along the zippers and at the handles for added security and strength.
The material should be easy to maintain. Most garment bags use polyester which is typically wipe clean.
A Word About "Denier"
You will often see that a material is 1800 denier or 1800D. The word denier relates to how thick the thread is. The higher the count the thicker the thread and the more durable the material should be.
Straps and Handles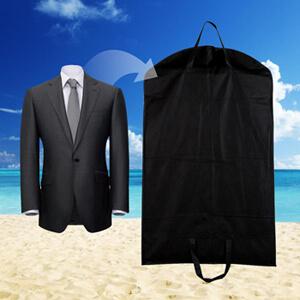 Most garment bags have at least one handle on top with another, longer strap at the shoulder. The top handle should be strong enough to handle being carried frequently with the best versions being padded with leather or another material. Shoulder straps should be adjustable. Most are also detachable which is great for the times when you find you have to check the bag rather than use it as a carry on. The fewer things that can get snagged, the better.
Pockets and Other Organizational Tools
The fewer bags that you plan to take with you on a trip, the more that your single bag is going to have to be able to carry. Most people do not just bag a suit when they travel for business. They will need underclothing, toiletries and pajamas at the very least. Being able to pack all of that plus your business wear, laptop and identification in one bag is more than just convenient it is becoming a necessity.
Pockets on the outside of your bag should have some kind of closure so that your personal items do not fall out or fall victim to snoops and thieves. Zippers are best but buckles and snap closures work well. If there is a laptop pocket and it is not padded, take the time to add small, thin, dense foam pieces to it for the added protection.
Zippers and Other Hardware
High quality zippers, D rings and other hardware are very important. Traveling has enough risks involved without your bag failing because of cheap zippers. Read several reviews and then consider how long the person had had the bag before the zipper failed. If there are a lot of instances of the bag's zipper failing within the first month of ownership or after 1 or 2 uses, that may not be a brand that you want to take a chance on. However, if the reviews are for bags that have been used for several months before the zipper fails it could possibly be user error rather than a problem with the actual zipper.
One of the most important parts of the hardware will be the hook that you use to hang the entire bag. Most bags have a metal hook however some use plastic and others may rely on the hangers that are used to hold your clothing.
Hangers should be considered as well. The bag should be wide enough to accommodate the average hanger with ease. Some bags have their own type of hangers that are used to hold the clothing and then locked in place either fully inside of the bag or with the top hook sticking out the top of the bag. Another bag design allows you to use your own preferred hangers which are then clamped in to place. Keep in mind that the more things that are sticking out of the bag are the more ways that your bag can get snagged on something especially in a busy airport.
Will it Work as a Carry on Bag?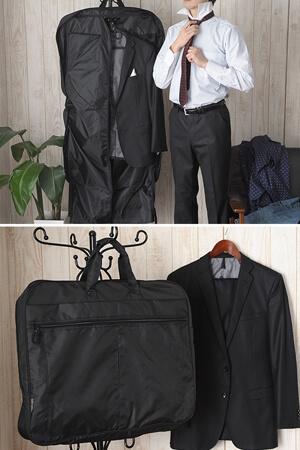 Airlines have very strict policies about what can and cannot be carried on to the airplane with you. These rules change frequently and are vastly different from airline to airline. Some of the rules may be different based on the type of flight as well. It is important that you not only know these rules as it applies to your garment bag but that you confirm on the exact date of your flight to be sure that there have not been any changes to the policy.
Garment bags that cannot be folded are not going to be allowed as carry on bags so the better option are the styles that fold in half or can be converted in to duffel bags. If you do find that you need to check your garment bag, make sure that all zippers are closed properly and that your items are tagged.
Another thing that is important is how you identify your bag. The average garment bag is a basic, black bag with very few other color choices available. Most business travelers would stick with the black as it is the more professional looking choice. That may mean that on a typical flight there are a dozen or more bags that are all going to look pretty similar to one another. Adding a colorful and easy to spot tag that is unique to you can end a lot of these basic bag issues.
No matter what type of garment bag that you end up buying, it should be covered with a comprehensive warranty that lasts for a decent amount of time. The higher the price of the bag, the longer the warranty should be. A warranty is important but means nothing without good customer service. Check to see what others are saying about the company's track record when it comes to questions, comments, complaints and concerns. Do they follow up or do they tend to keep the customers running around trying to get a warranty claim honored in hopes that the person will get frustrated and just give up? Lifetime warranties mean nothing if the company never responds to you.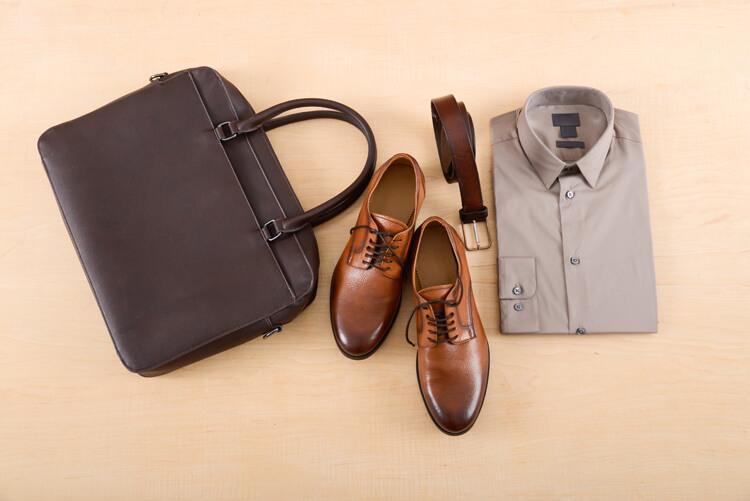 Read the care, usage and storage labels carefully keeping in mind that the more care you extend to the bag now the longer you will be able to use it. Remember, the difference between water resistant and water proof. Always try to take an extra few seconds when zipping up the bag so that you do not cause damage to the zipper or the teeth. If the zipper is catching, take the time to investigate for a cause. Use a bit of mild soap on the track to keep it zipping smoothly. Trim off loose threads so they do not get caught and tangled in the zipper.
Do not over pack the bag as this causes stress on the material and will wrinkle your clothing. If the bag is advertised as holding up to three suits, err on the side of caution and try to make due with 2 suits.Always make use of the straps inside of the bag so that your clothes are held securely during travel. Do not cinch the straps so tightly that they leave creases or marks on your items.
Minimize the heavy items that you are trying to pack in the extra pockets. Pack the bag well in advance and then carry it around in your home so you can see if it feels balanced and secure and to determine if you need to remove anything before you leave.
Whenever you arrive home from a trip allow the bag to air out before storing it away. If you are in and out more than a few times a month it is best to invest in more than one garment bag so that you can alternate them and so that you always have a spare bag in case one fails. Never store a bag that is damp until it has been thoroughly dried and aired out to prevent mold and offensive odors from building up inside of it.