Your children are traveling right alongside you, and it's time they had their own luggage. As their clothing and accessories get bigger, it's getting harder to pack all in the same suitcase. Children need luggage that's appealing enough to encourage them to keep up with it, but also has features that make it easier for them to carry and manipulate.
We've put together a list of our absolute favorite pieces of luggage for children to help you find the perfect piece. They're eye-catching and have all the whimsical details children love without sacrificing storage. Let's take a look.

Best Kids Luggage Reviews
Skip Hop Kids Luggage with Wheels
Retractable 13-inch handle.
Adjustable mesh bottle pocket.
BPA-free, Phthalate-free.
8 different varieties of coloring for girls and boys.
Stephen Joseph Classic Rolling Luggage
100 % nylon.
Perfect height for little travelers.
A large front pocket and two side pockets.
Durable polyester exterior is made to last through plenty of wear and tear.
ZincFlyte Kid's Luggage Scooter 18"
Integrated deck – scooter folds away and locks in place.
25 liter capacity.
Cabin sized – perfect for stowing in your overhead compartments.
Obersee Kids Travel Suitcase
Intended for children ages 3 to 7.
Suitable for use as carry-on baggage.
Many colors and patters for boys and girls.
---
Each piece was chosen based on durability and design. Children have particular needs for their luggage, including something easy to carry or move and something that keeps them interested. Let's find your child's perfect piece of luggage.
Skip Hop Kids Luggage With Wheels – Best First Luggage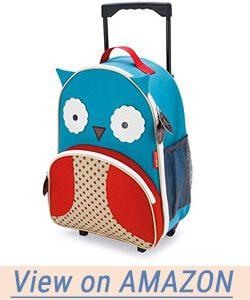 Our first piece of luggage is an adorable rolling suitcase that comes in an adorable owl design. It has a front zip pocket to keep essentials in easy reach and a retractable handle just like mommy's luggage.
Features
The handle is reinforced along the joints so it's harder for kids to break it while playing with it (you know they will). It's BPA free material that you can wipe clean with a damp washcloth. It also includes a mesh pocket for a water bottle. All of Skip Hop's products are safe and non-toxic and very sturdy even for children.
Design
The owl is bright and pleasing for children to watch. It can make them feel like they've got a piece of luggage that matches their personal style. The interior pocket doesn't have any dividers, so you may have to get creative organizing all your child's things, however.
When your child doesn't want to roll the suitcase, it can convert to a backpack for easier carrying down stairs or other tricky places. It's durable and is the perfect size for younger children to carry their things on your trip.
Who It's For
This piece of luggage is great for very young children who aren't going to be responsible for their luggage themselves. It's wonderfully patterned and whimsical and is fantastic for trips where you may want to pack a few of your child's favorite things in this suitcase to carry on the plane or to have readily accessible in the car. It's not going to be suited to very long trips because there isn't a lot of space, and the design is best for very young children who aren't going to be responsible for their luggage anyway.


Pros
converts to a backpack
reinforced handle and wheels
water bottle pocket
Cons
no organization in the main pocket
side pocket may not accommodate all water bottles
Stephen Joseph Classic Rolling Luggage – Best For Elementary Boys and Girls

For a slightly older child, this rolling luggage offers more room and better organization. It has a bright, fun pattern perfect for the boys and girly-girl with plenty of pockets to keep everything organized and in place. It's a great size and has an extendable handle for easy manipulation.
Features
The front and side pockets help keep essential items right in reach. As your child gets older, snacks, headphones, and even technology will need to be within easy reach, and your child has plenty of choices for how to arrange their things. The telescoping handle is sturdy, and the wheels are fixed to prevent stressing them as your child learns to move a rolling suitcase.
Design
The design is the ultimate boys and girls pattern. It's bright and eye-catching, so your child can see it easily even if you decide to put it on the cart or in the trunk. The pockets are very useful, and the interior has plenty of space to pack clothing and shoes.
It uses a durable polyester blend material that can withstand tears and wipes clean with a damp washcloth. The zipper doesn't snag, but there's no water bottle pocket for carrying drinks (the side pockets could accommodate a juice box if necessary.
Who It's For
Elementary-aged girls and boys who are ready to leave behind the babyish designs of toddlerhood will find this piece of luggage great. It's more grown up and could make your daughter feel like she has more control and more say in what and how she packs. It's got enough space to pack clothing and accessories and is easy to maneuver behind your elementary school girl and boys without becoming too heavy. It's a good bridge between the adult luggage world and the smaller child luggage she may have had up to this point.
Pros
lots of pockets for organizing exterior storage
durable fabric
plenty of room in the main compartment
GoPlus 2-Piece Luggage Set – Best For Packing Needs and Wants Separately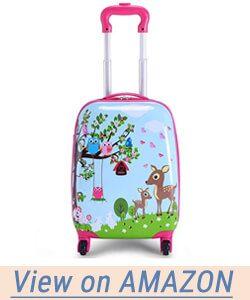 Children that need more space may benefit from spreading their packing out between two bags. This set includes a hardshell backpack and a hardshell suitcase. They fit together in one trolly for carrying easily through the airport and offer a little more protection than standard children's luggage.
Features
The hardshell exterior is a polycarbonate blend with ABS plastic, a highly durable material that exceeds what most children's luggage is made of. It will protect the interior and can withstand even a young child's excitement. There's no exterior storage, but with the backpack feature, you can pack all your child's special things in one place without disturbing the luggage.
Design
It comes in a few different patterns and colors but each set coordinates. The interior has an excellent organization with straps to hold everything in place even when the luggage is upright and pockets to organize. The material is exceptionally durable on the outside, but may not hold up as well on the inside, however.
The luggage pieces fit together so that your child can pull them along when he or she is tired of carrying the backpack. When it's time to pack the luggage in the car or train, your child can detach the backpack and keep all the important things nearby. It's an excellent option for frequent travelers and children who carry lots of things with them.
Who It's For
Some children need to take more thing with them. If your child is traveling with you regularly to places more than just down the road, having a separate backpack for all the essential stuff could make the whole process a lot easier. The larger bag can be for clothing and accessories, and the backpack can keep favorite toys or activities at close reach for the plane ride or the car trip. It's easy to fit things together and could teach children how to be more responsible for packing and organizing their things. Plus, the hardshell can withstand some impact.
Pros
two pieces for an excellent organization
interior has straps and pockets (most children's luggage doesn't)
exterior material is the same material as adults' hardshell luggage
Cons
no water bottle holder
the interior fabric may not hold up well
American Tourister Kids' Disney Luggage – Best For Simple Travels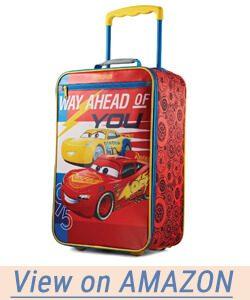 If your child doesn't need too much or travels only occasionally, this simpler luggage could do the trick. It features his or her favorite Disney character and lightweight material that your child can still carry. Delight your child on his or her next trip by showing off the fandom and giving him or her luggage that reflects their loves.
Features
The single compartment has straps and pockets to help organize your child's things and keep them in place. There's just a small bit of exterior storage, so make sure your child has an additional bag for essentials if the trip is long. The material is softer and may not hold up at the airport, so confine this luggage to car trips.
Design
The Disney design is pleasing for kids who are fans of their favorite Disney characters. There's only a single compartment, designed to make packing simpler. This luggage is a great pinch hitter for occasional trips and for car rides when you're sick of packing your child's things in your own luggage. It comes in a wide variety of Disney's most beloved characters including the newest franchise for Disney, Star Wars.
Who It's For
If your child is a huge Disney fan, this could be the perfect gift. It's durable and easy to pack with plenty of space for a weekend trip in the car or a carry on with the plane. It's organized well and light enough that your child can pull it along behind him or her.
It's also an excellent way to move beyond the silly children's luggage that doesn't really pack much of anything. If your child needs practical luggage, but you aren't ready to give up the magic of childhood just yet, this could be a good middle ground.


Pros
fun Disney designs are bright and eye-catching
single compartment design is great for kids learning to pack by themselves
lightweight and easy to carry
Cons
not durable enough for airport travel
not a lot of exterior storage (just a single, narrow pocket)
Disney Lightning McQueen Luggage – Coolest Kids' Luggage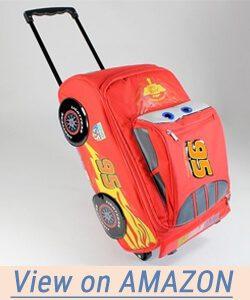 For true Cars fans, this piece of luggage is the only choice. It's a child's suitcase in the shape of the famous Car's character. It has useful exterior storage and is lightweight with a telescoping handle.
Features
The main compartment has plenty of storage for your child's things while the exterior pocket can keep essential items within easy reach. The zippers are durable, and the wheels are fixed to help protect them from long term damage from playing children. The exterior material is a polyester blend that's easy to wipe clean and resists tears and punctures. However, the seaming can be weak on the sides so watch for gaps as your child uses the luggage.
Design
The famous car is the shape of the luggage. The front pocket has plenty of storage because the extended shape of the windshield gives you more leeway than a simple flat pocket like much of luggage design. The material is bright and eye-catching, and most children would be really excited to carry this type of luggage on their trip. It doesn't have a water bottle pocket on the front, however.
Who It's For
The ultimate car fan will find the shape of the luggage awesome. It's an enjoyable design and should satisfy picky children who want only their favorite character and nothing else.
It could also be a great way to help a child anxious about traveling begin to look forward to the journey without having to be bribed or nagged.
It's just an entertaining design, and we almost wish adults still had character bags. Plus, the generous exterior storage pocket is great for kids that have special things coming out their ears. Everything can fit with no whining.
Pros
really unique suitcase shape
more than the average storage in the front pocket
easy to carry
Cons
some of the seaming may be weak
no water bottle holder on the exterior
Rockland Luggage Rolling Backpack – Best All-Purpose Kids' Luggage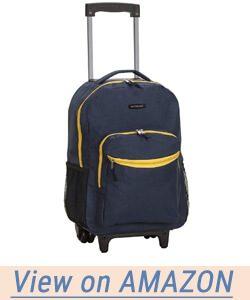 For older children who are beyond their Disney obsession, this simple rolling backpack offers a more grownup take on children's luggage without being too big or unwieldy. It features three compartments and a side mesh pocket for things like water bottles or essential items.
Features
The main compartment is big enough to pack most of your child's needed items for a trip. There are two additional exterior pockets for organizing smaller items and keeping critical things at hand's reach. The material is durable and wipes clean, and the wheels are reinforced for easier rolling and more durability. The telescoping handle is also reinforced, and the entire thing can be carried like a backpack if necessary.
Design
The suitcase comes in a wide variety of colors and patterns suited to your child's personality. It's designed to give your child options for how to carry it and plenty of space to pack things just so.
The material is durable, but the entire suitcase is still light enough for your child to carry alone and it makes an excellent choice for your child's very first piece of "grown-up" luggage.
Who It's For
Your child has an undying loyalty to a specific Disney character, and that's ok. You can build a sense of responsibility with packing while still honoring the magic of their childhood. It's durable and gives them a chance to show off who they are and what their interests are before getting to be an adult and wanting or having to buy black luggage. Let them be kids a little bit longer and have their Disney characters.
Pros
grown up color choices and design suitable for older children
lots of exterior storage
reinforced double wheels
Cons
doesn't fit under an airline seat well
may not stand up to younger children's enthusiasm
ZincFlyte Kids Luggage Scooter – Best For Active Kids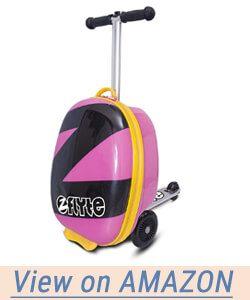 For super active kids that need something more than just your standard luggage, the scooter option is a really fun one. It features a hard shell case with a scooter attachment on the bottom for zooming through an airport or just down the driveway.
Features
The single compartment has straps and a few pockets to help kids pack, but this one isn't going to be for weeks-long trips. It's enough to pack the essentials, however. The scooter can give kids incentive to keep going if you're walking to a destination or to pack with the promise of a reward. The thick handle is simple for small fingers to grasp and the entire piece is reinforced for durability.
Design
It comes in a few different color choices to suit your individual child. The scooter attachment can fold up when not in use to discourage inappropriate riding. The handles are very wide and help stabilize your child whether on the scooter or dragging the luggage. A hardshell case protects the interior and is made of the same polycarbonate as grownup luggage. The surface squishes to help protect against impacts, however.
Who It's For
Your child is super active. So active, in fact, that it's hard to keep him or her occupied while you're traveling. The scooter luggage is good for kids that need a little more excitement in their lives, or they begin to melt down in public. You know the ones. They're also great options for kids who often play with their luggage when they aren't traveling, and it can keep the magic of travel alive for at least a few days after the trip is over.
It may not be the most spacious, but if you still pack most of your child's things in your own luggage, it could be a good option for those little extras.
Pros
scooter detail encourages kids to keep up
scooter folds up for storage
durable, hardshell material protects interior contents
Cons
no exterior storage
on the smaller side
Obersee Kids Travel Suitcase – Best Transition To Adult Luggage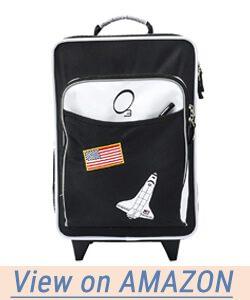 The Obersee kid's luggage is a standard luggage style that offers plenty of storage space and is suitable for more extended travel. The exterior is a durable polyester that resists tears and is easy to maneuver around and organize.
Features
The luggage has a main compartment that's large enough to hold clothing, shoes, and any accessories. There's a front pocket to keep essentials within easy reach. The telescoping handle is pretty durable and can withstand excited kids without falling apart right away. Durable wheels are more extended than the wheels on other kids luggage, which makes them a lot easier to move around.
Design
It's the spitting image of adult luggage. The design can accommodate more things than a standard backpack or another type of typical kids luggage so your child will be ready for a longer trip. The wheels are designed to stick out further and can handle better than standard fixed wheels as well.
It's an excellent option for kids leaving behind very young childhood and coming into a more grown-up world.
Who It's For
Your kid is already a grown up, or at least that's what it feels like. This luggage piece is practical and sturdy and allows your child to pack and organize just like he sees daddy doing. When it comes time to travel, he or she has enough space to get everything in, and the wheels are durable enough to withstand some running to catch a plane. It's just a good all purpose bag that he or she might be able to carry even later in life once childhood is over.
Pros
more storage for longer trips
resembles adult luggage
better wheels than most children's luggage
Cons
flips easily which can wear the fabric on the front
zippers can be a weak spot
Trunki Original Kids Ride On Luggage – Best For Wiggly Dramatic Kids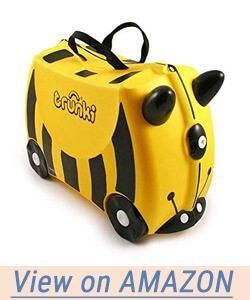 Now we're talking. These fun and functional luggage pieces are both a toy and a storage container. They feature a rigid body that allows your child to ride on them to get from one place to the next. They may be a little more expensive, but they're certainly entertaining.
Features
The suitcase has a boredom busting design suited to kids who need encouragement not to have meltdowns while waiting. The hard shell protects interior contents, and the top has a scoop seat that kids can ride on as they move from one place to the other. The interior has a few straps to help hold things in place, but you may want to invest in some smaller bags to keep things organized; there aren't many pockets.
Design
The bag comes in three different shapes, a bee, a firetruck, and a friendly monster.
The designs are fun and eye-catching, so you'll never lose your luggage in a crowd. The four wheels are durable and stable. Parents can carry it over one shoulder or pull tired kids along behind as they're moving (though be careful running through the airport. It isn't super steady). The design is suitable for light trips where you won't have to pack everything and the kitchen sink.

Who It's For
Your child moves like a snail when it's time to get going. Or maybe your child melts down after a few steps. This luggage helps keep that meltdown at bay because you can just pull them behind you. Turn the walk to the car into a little game. Make changing gates a little bit more exciting. They may be a bit dramatic, but small feet get tired more quickly, and this luggage could buy you just a little bit more time before the fallout of traveling all day long hits. Plus, it's adorable.
Pros
fun design prevents boredom and dragging feet
the hard shell is highly durable
no zipper to break
Cons
not a lot of interior organization
can flip if you're running with the luggage behind you
American Tourister Disney 21 Inch Luggage – Best For Tweens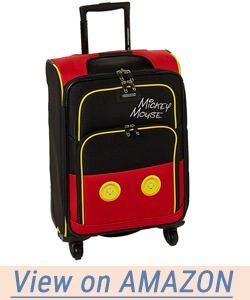 The final bit of luggage is a Disney themed piece that's a little bit larger for older kids. It has plenty of storage and features fun Mickey and Minnie designs. It's great for older kids and for much longer trips when you really need a piece of luggage that isn't a toy.
Features
The exterior fabric is a durable polyester blend that can take some overstuffing. Reinforced wheels are easy to maneuver and set on flexible castors for better handling. This may not be suitable for younger children, but older children should be able to handle (and appreciate the flexibility) The handle is retractable and slides cleanly in and out. Durable zippers prevent tearing and don't snag even when the bag is really full.
Design
The fun Disney patterns are classic Minnie and Mickey. They're a great nod to the world of Disney without being too babyish. The interior has straps to hold everything in place, and there are two larger exterior pockets to organize things and keep everything important within close reach. Your teen or older child should have plenty of room and opportunities to pack and organize everything they need.
Who It's For
Your tween may believe he or she is a grownup, but this luggage is a great way to offer luggage that's got some magic without the baby designs he or she is trying to leave behind. The subtle Disney print is more grown up, and the luggage has a lot of appeal as far as space and organization.
It looks more like the adult luggage you buy for yourself and gives your child lots of space to pack and keep things organized. Plus, it's a little bit more durable than cheap children's luggage, and it's certainly eye-catching.
Pros
plenty of space for older kids
minimal yet fun design
sturdy construction with castor style wheels
Cons
may be too big for smaller children
too big for carry on luggage
Buyer's Guide
Deciding on children's luggage can be a little tricky. Children need strong pieces but they can't always carry them or may not enjoy packing in them. Keep a few things in mind when you're deciding.
Materials Of Kids Luggage
Children's luggage needs to be durable unless the luggage is only a toy. Children are still likely to play with things even if they aren't supposed to, so there's a good chance that cheap luggage won't get to the next day with an enthusiastic child.
Materials for soft-sided luggage should be a durable polyester blend. This material resists tears and punctures and isn't as likely to rip if you accidentally overstuff the luggage. It's lightweight and sometimes resists water depending on the weave of the luggage. The higher the denier of fabric, the more likely it is to withstand all the impacts of a place like an airport.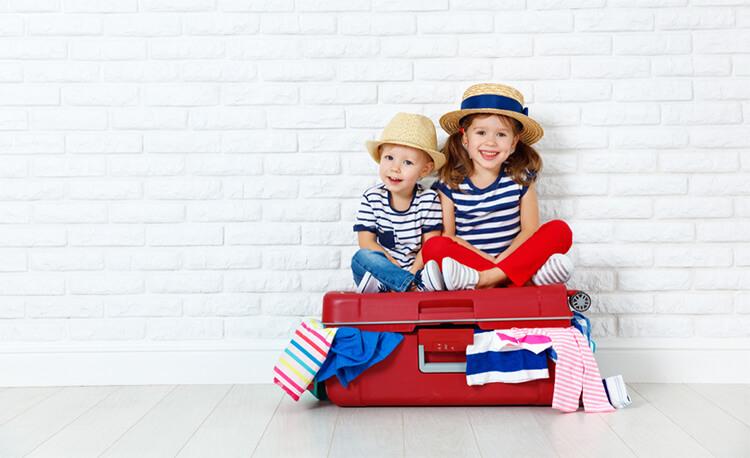 Hardshell luggage should be a polycarbonate blend that can also resist punctures and cracks. If it gives a little, that's ok. It will be able to withstand impacts a little more comfortably. Hardshell cases made of ABS plastic are an excellent option for kids who are hard on luggage and frequently take it out to play with (even when they aren't supposed to).
Hardshell or Softshell Kids Luggage
Speaking of materials, choosing a soft-sided case or a hardshell can depend a lot on the type of travel you're doing. If you're going long distances and need a lot of protection, a hardshell case can be a great way to get kids things from one place to the next without suffering any issues.
Hardshell cases can be difficult to pack because you don't have a lot of give on the interior. If you're the type to overstuff your luggage, the rigidity of the hardshell case could be frustrating. They can also be heavier as well although with the ride on or scooter luggage, that won't be an issue.
Soft-sided luggage is lightweight and fabulous as all-purpose luggage for a variety of trips. It's easy to pack because you can stuff them a little more full due to the give in the fabric, but they retain their light weight.
They aren't quite as durable, however, so if you frequently travel through a place like an airport, you may find that the bag isn't as durable. They do work well with carryon luggage for the most part, so if you're checking a child's bag, this may be a better choice than the heavier, more rigid hard shell style.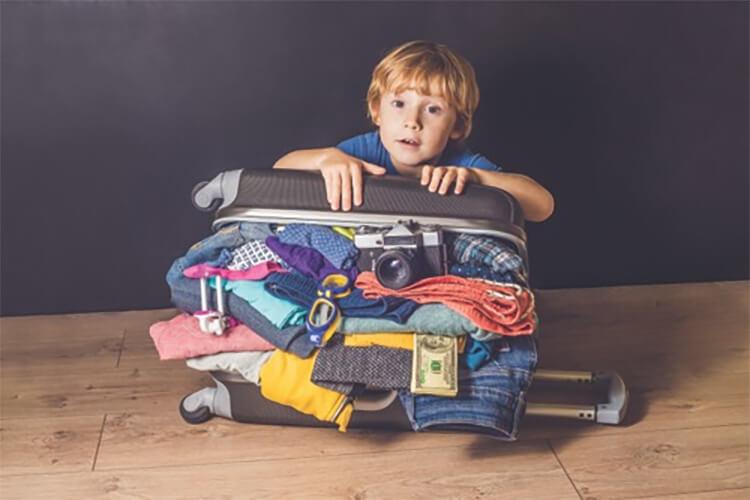 Space
If your child is still very young, you may not need much space to pack things. Also, if you only take overnight trips, spending a lot on a larger suitcase could be frustrating. Your child won't be able to carry it, and things will rattle around loosely without strict organization.
If your child is older, he or she may need a larger case. Older children can handle having a larger piece of luggage because they're just better equipped to carry it or push it around. They also need more space to pack their things because it's likely they have more things they want to carry around.
Price
In general, you get what you pay for. That doesn't mean you have to have hundreds of dollars sunk into a bag, but that ultra-cheap luggage you get from your local big box store may not stand the test of time. It's going to be really frustrating if you've never even used it and it's already tearing.
In our experience, the pricing sweet spot for children's luggage tends to be less than $100 but more than $25. This spot usually gets you a piece of luggage that can hold up under duress but won't make you break down in tears if your child manages to tear it up before you really get to use it.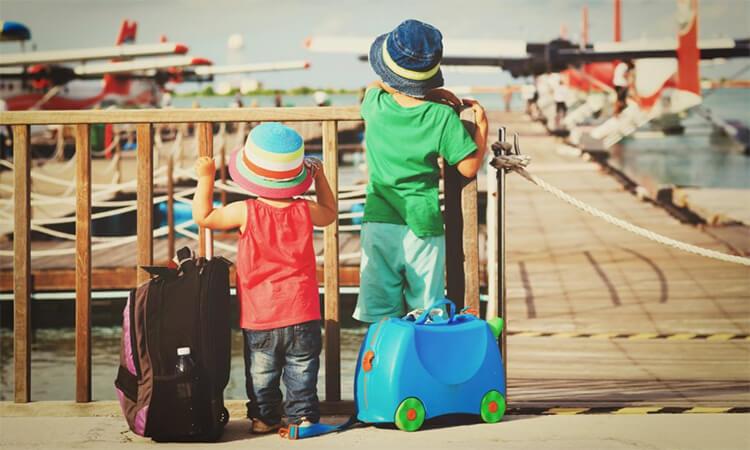 Usability Of Kids Luggage
Do you want to be able to use the luggage yourself if you're traveling solo? Do you want a child to be able to carry it on his or her back when not being pulled behind? The accessories for the bag can really make the difference.
Outside storage is a critical piece of this puzzle because that allows you to keep essential things separate and within easy reach. If you've packed your child's favorite lovey inside the large compartment and he or she has a meltdown, you're going to have to unpack the entire thing to make it work.
Another useful feature is a water bottle or sippy cup holder on the side, so drinks are always within easy reach.
Wheels should be flexible enough to move when your child pulls it, but young children will probably do better with fixed wheels. Fixed wheels won't break or tear under duress, and young children can pull the luggage in a straight line.
Older children can switch to flexible wheels on castors to help remove pressure from the shoulder and increase maneuverability. That is going to make the suitcase immediately more manageable and usable for your older child once he or she starts being solely responsible for their luggage.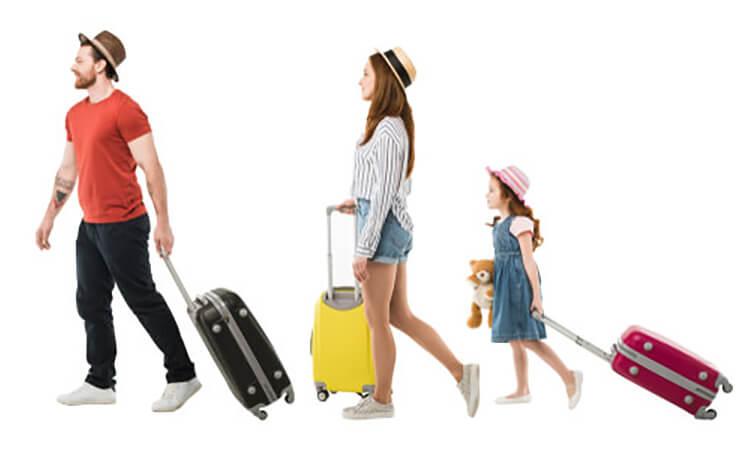 Final Thoughts
Choosing the right luggage for your child isn't too difficult as long as you know what you're packing for. Smaller luggage that helps wrangle favorite toys can be a great way to encourage children to build organizing skills and think through what they really want to take. Larger luggage is a good transition for older kids who are making packing decisions on their own. It's an excellent option for kids who have travel anxiety, and some luggage with toys can help keep an unruly kid in check. Whatever you need, there's a piece of luggage that fits.
Where is your child on this list? Is your child older or is your child is the smallest one just now getting the first piece of luggage? Let us know in the comments below.