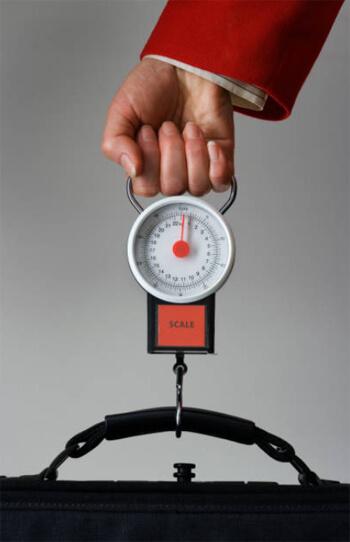 If you travel a lot on different airlines, you know how important a few ounces can be once you're slapped with an overage cost. You want to be prepared for your trip, but you also need to know down to the smallest ounce how much your bag weighs.
Traveling confidently could mean knowing for sure your bag's weight before you get to the check-in counter. A quality luggage scale can help make those trips just a bit easier: no guesswork and no surprises.
We've put together a list of our favorite luggage scales to help make your trip smooth and worry-free. Let's find out how this small addition to your travel gear could help transform your preparations and ensure a smoother trip from the very beginning.

The Best Luggage Scales Review
Each scale was chosen based on accuracy, design, and ease of use. They're built for the novice traveler to the seasoned one and should take no time at all to set up and get started.
Etekcity Digital Hanging Luggage Scale – Best All-Purpose Scale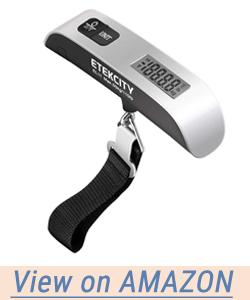 Our first travel scale requires no extra room to set up. It's a simple hanging style scale designed to weigh your bag accurately without taking up valuable floor space. It's compact enough to pack in your bag – great for those extra souvenirs on the way home – so you always know what bag weight you're dealing with.
Design
The scale hooks to the handle on your luggage through a secure hinge clip system. You simply use the scale itself to pick up your bag and lock the weight instantly. It's TSA approved and fits into a small pocket out of the way when not in use. It measures up to 110 pounds.
Features
In addition to weight, it also features a temperature sensor in both Celsius and Fahrenheit. If you're traveling with delicate materials or in a particularly harsh climate, you can gauge the temperature of your bag and adjust accordingly. It has an auto-off function to preserve battery, plus low battery and weight overload indicators that are easy to read. It also comes with a one year warranty against defects.
What We Like
This is a great all-purpose option for weighing your luggage quickly and effectively. The plastic material is lightweight and won't add extra weight during packing. It's TSA approved so you won't lose it going through the airport, and the strap is durable enough for long life. Overall, it's a great scale.
Pros
compact size can be packed with your luggage
metric and imperial measurement options
temperature sensor (Celsius and Fahrenheit)
Cons
uncomfortable to hold
the strap is not intuitive
Camry 110 Lbs Luggage Scale – Best Temperature Display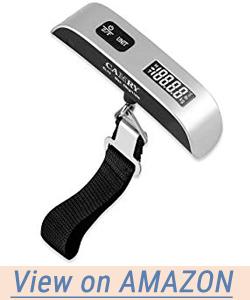 Our second scale is another compact model designed to pack away easily in your luggage or store in a drawer for easy use. It's a hanging style system and measures up to 110 pounds without taking up room in your luggage or your floor.
Design
The scale uses a simple hook system to attach to your bag handle with an adjustable strap. Pick up the bag by the scale handle, and you get an instant, accurate weight reading. It has an easy to read display with metric and imperial measurement options, plus a comfortable to hold handle.
Features
You can also keep an eye on the temperature around your bag in either Celsius or Fahrenheit. It has a zero, and tare option in addition to the TSA approved scale. The handle itself is more comfortable to hold with smooth, curved edges that won't cut into your fingers. The auto shutoff feature works after 60 seconds of nonuse and low battery indicators are easy to read.
It will tell you clearly when the weight is too much for the scale. It uses a lithium battery and comes with a 30-day money back guarantee plus a one year warranty against defects.
What We Like
The display on this one is a great benefit. The temperature readout is precise and accurate, so when you're carrying delicate luggage, you'll always know. Lithium batteries also last a lot longer than standard batteries, so expect a long usage from this one.
Pros
curved edges are more comfortable to hold
multiple measurement options
secure and simple hook closure
Cons
no weight lock
battery life is mediocre
Tarriss Jetsetter Digital Luggage Scale – Best Design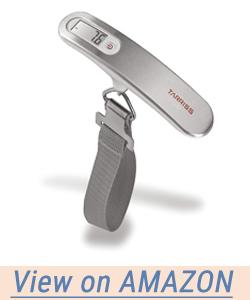 The Tarriss scale is a well designed, modern scale with a sleek, matte stainless finish. It uses a simple hook and loop closure to secure the scale to your bag and weigh it accurately before tucking away nearly unseen in a pocket.
Design
This scale lives up to the jet setter name. It's a well designed, beautiful piece of gear that fits in well with any high-end luggage. It has a simple to read facing with metric and imperial measurements. The display doesn't drain battery nearly as much as some models out there, but it doesn't have a backlight. Make sure you're reading in a well-lit area.
Features
It has an auto shut-off feature to preserve battery, plus low battery indicators. It has an auto-lock display so that you don't have to twist around to read it while you're holding the bag. The hook and loop belt is easy to attach, and the model is backed by a lifetime warranty. It doesn't have a temperature function or any other features besides weight. This is a simple option.
What We Like
The design on this one is so attractive. While good design with poor performance is a dealbreaker, excellent performance plus an eye-catching design will get us every time. The sleek look is attractive enough to pull out in the airport itself while you're balancing luggage and we'll never get tired of how the brushed stainless feels in our hands.
Pros
beautiful stainless steel design
long battery life
weight lock option
Cons
no backlight
no temperature sensor
EatSmart Precision Voyager Digital Luggage Scale – Easiest To Hold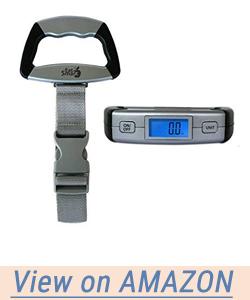 EatSmart's unique design is a handle style scale with an easy to hold grip. It has an easy to fasten buckle and a straightforward display for weights up to .1 pounds (or .1kg). It can be packed away neatly without taking up a lot of space.
Design
The handle has ergonomic finger grips that allow you to hold the bag with both hands for an even weight reading. The buckle system is really intuitive to use and completely secure. The scale beeps to let you know that weight has been officially recorded while the backlight makes it easy to read even in low light, an excellent option for those early morning flights.
Features
Aside from the beep letting you know that you've got your weight, it also has a 20-second auto shut-off feature that helps preserve battery life when the device isn't in use. To weigh more than one bag, the on/off button is a quick way to reset the machine for your next bag. The weights are highly accurate, and the device comes with a two-year warranty to cover against any mishaps or defects.
What We Like
The handle design is so easy to hold and helps keep even heavy luggage steady while getting a reading. Although the display is a little small for our taste, this handle concept is the most intuitive and comfortable for multiple types of luggage and weights. We may even be able to hold an ultra heavy bag steady for once for an accurate reading.
Pros
ergonomic finger grips
can be held with two hands for more accurate measurement
two-year warranty
Cons
no weight lock
requires a longer hold for an accurate reading
Dr. Meter 110lb/50kg Electronic Balance Digital Postal Luggage Hanging Scale – Best Visibility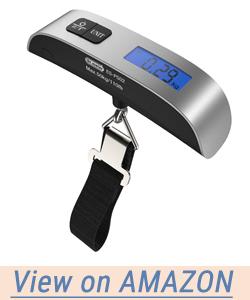 Dr. Meter's simple scale is another ergonomic option with a larger display and an LCD screen. It stores easily but provides a straightforward display to help with getting an accurate reading. It uses a hook and loop closure for simple securing, and the overall feeling is a durable yet easy to read scale that won't add any weight to your luggage.
Design
The black and silver design is easy to read and modern. A bright, backlit screen helps visibility, especially with early morning flights while a textured handgrip makes lifting the luggage just a little bit easier. It's small and packs up easily for estimating luggage weights after all those souvenirs. It's a little bit bulkier than some other meters, but the grip is excellent.
Features
It measures weights in both metric and imperial measurements. It accounts for temperature, a handy feature for delicate luggage, and includes a tare function to account for the weight of the luggage itself. The battery life is decent, and it's TSA approved.
What We Like
The visibility on this display is excellent. It's clear in a variety of lighting conditions from bright to low light, and the durable scale has a great feeling when in use. If you measure your bags in lots of different environments and times, this one could ensure you never have to squint or get a second opinion.
Pros
durable design
larger grip for easier handling
easy to read display
Cons
buttons can sometimes cave in
not super ergonomic
Travel Inspira Digital Hanging Postal Luggage Scale – Best Multipurpose Scale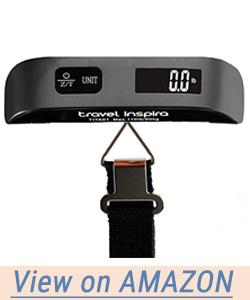 Our next scale is a portable, easy to use option with a couple of extras. It quickly and accurately measures the weight of your luggage while also offering a temperature gauge and tare function. It's quick to pack up and stores easily in a pocket until you need it.
Design
It has an easy to read display with a simple black and white lettering scheme. The high contrast is great for those who may have difficulty reading low contrast LED displays. The hook and loop function is easy to use and gives you an even weight reading once placed correctly. The handle can be held with two hands, so there's less rocking and weight variance.
Features
It has a weight lock feature so that you aren't trying to read the weight while holding onto your bag. Temperature sensors give you readings in both Celsius and Fahrenheit while the tare function allows you to reset the scale to zero to measure specific weights. It's energy saving and has clear indicators for low battery and overage. A 60 second shut off prevents battery loss and makes it easier to use.
What We Like
This is a great scale if you're using it for more than just luggage. If you carry the scale for a variety of reasons, this model could be a good choice for handling postage, luggage, produce, or a million other things.
Pros
tare function
weight lock
temperature sensor
Cons
display quality can be unreliable (keep records for customer service)
takes a little longer to get a weight lock
Amazon Basics Digital Luggage Scale – Best For Carryon Luggage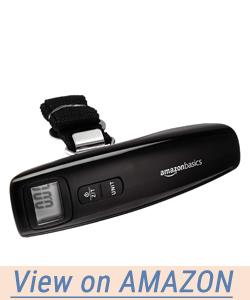 For a very basic option, Amazon's affordable scale is a small, lightweight option with a digital display and tare option. It has a hook closure to secure luggage and is small enough to fit into a side pocket. It's best for smaller luggage when you don't need much time to hold luggage for weighing or as a backup option.
Design
The display is a basic black-and-white option which requires less battery drain overall. It's easy to read, but there's low contrast and no backlight, so keep that in mind for early morning flights. It's small enough to fit into a pocket, and the slim profile ensures it won't be in the way.
Features
It doesn't have a temperature sensor, but it does have a tare function. You can measure the individual weights of objects without having to jump through hoops to reset the scale. It has a low battery indicator and error indicators for overweight baggage or overall misuse. It weighs up to 110 pounds, but it may be difficult to lift that kind of weight with the handle provided.
What We Like
The simplicity of this scale is a great choice. It may not be the fanciest around, but if you need a backup scale, or you're usually a light packer and want to be safe on that big trip, this is a great option. It may not hold up under heavy use, but if you aren't sure how much you'll bring home from that trip, it's a cheap option.
Pros
very affordable
low energy needs
slim profile
Cons
not very durable
accuracy is off by a couple of pounds
Digital Luggage Scale Dunheger – Best For Bragging Rights (Golden Globe Celebrity Bag)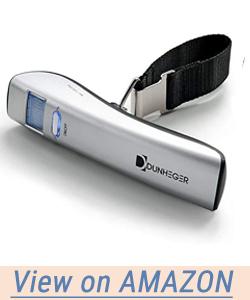 This scale was once included in a Golden Globe Awards gift bag, and the design does not disappoint. It has an all silver housing with a bright blue display that's easy to read. It uses a buckle to secure the strap, offering more accurate, stable readings.
Design
The buckle is more secure and less likely to shift while you're picking up the bag to weight. It has a uses an ergonomic design that fits easily into your hands and is lightweight enough to tuck into a pocket without adding weight. It's a very attractive design and comes with a carry case and e-guide for extra tips.
Features
The tare function allows you to reset the scale to zero to measure individual things without a lot of fuss. The simple auto shut off helps preserve the battery, and it weighs objects up to 100 pounds quickly and accurately. It features a sound indicator, so you know precisely when the weight has been recorded without having to twist around to watch the scale itself.
What We Like
The story for this one is the best. If you like all your things to have a great story attached, pointing to the 2016 Golden Globe gift bags is a fun choice. It's not just a story, however. You're still getting a reliable and easy to use scale that can transform your travel gear from constant surprises to preparation.
Pros
ergonomic design
easy to read display
sound indicator when weight is captured
Cons
strap attachment is flimsy
no temperature sensor
Letsfit Digital Luggage Scale – Best Strap And Connection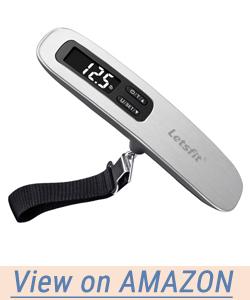 The Letsfit is a convenient, modern scale with stainless steel accents and a brightly lit display screen. It measures up to 110 pounds and has clear indicators for things like low battery. It's convenient to pack up in your luggage without getting in the way and batteries last a pretty good while.
Design
Stainless steel looks really sharp on this particular model. It has a contoured shape, which makes it easy to hold and lift and the screen is simple to read even in low light. The strap has a metal connection that's reinforced to last while the strap itself is a flexible, yet durable weave. It also has clear buttons that are easy to operate.
Features
The weight lock makes it easy to capture the weight and then let go to read the scale accurately. Overweight indicators tell you clearly when your bag is in danger of costing you money, and the low battery sensor won't ever leave you without a replacement battery. The strap is easy to manipulate and secures to your bag handle with no issues. It's a great all-around option and has a clear screen.
What We Like
The battery life is excellent for this unit, and the display is one of the best on the list. Simple indicators mean you're always prepared while the ergonomic design is easy to hold and pack for travel.
Pros
clear screen
convenient indicators
sharp design
Cons
no temperature gauge
the battery is inconvenient to replace
Mycarbon Digital Scale – Best For Heavy Luggage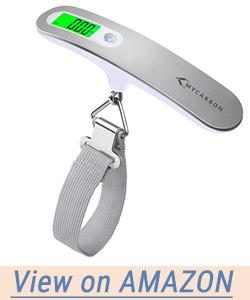 Our final scale is a high design, accurate scale with a bright green display and a two-handed grip. It features a secure strap with lithium-ion batteries and a convenient tare function. It's easy to hold and looks great while measuring.
Design
The sleek design doesn't just look great. It also makes it easy to hold your luggage for accurate measurements without shifting or rocking weight. The weight lock feature is convenient and helps you secure the correct weight. The backlight is bright green and easily readable in all lighting conditions, and the battery should be longer lasting than the previous MyCarbon model. It's a heavy duty stainless steel so you can pack it without worrying about breakage.
Features
You can set the measurement to four different options (pounds, ounces, kilograms, and grams). It has a tare function for measuring multiple things without a hard reset. Plus, a 60-second auto shut off feature helps to preserve battery life so that it's always ready when you need it. It has a simple hook closure with a heavy-duty, braided strap.
What We Like
The longer battery life plus easy to read display makes this option a great choice. The addition of an extended grip for handling heavier baggage is a good option for those of you who frequently overpack and need to get your weight down to the ounce. Better handling means a more accurate reading with less shifting or sway.
Pros
four measurement options
stainless steel
easy grip
Cons
no temperature sensor
sometimes has a bad battery connection
Buyer's Guide
If you aren't sure how to choose your luggage scale, there are a few things you could consider first. Let's break it down so that you make the best choice and get to traveling!
Why Should I Get A Luggage Scale?
If you're still using your bathroom scales to determine your luggage weight, you're missing half the picture. Traveling for any length of time only adds luggage, so by the time you're ready to come home, you're in danger of going over the weight limit.
A reliable, portable scale gives you accuracy throughout your trip, so you can properly divide up your luggage weights or at least be prepared if there's that one souvenir you can't live without. The scale should be small enough to tuck away in your luggage without adding excess weight by itself or interfering with your perfect packing ritual.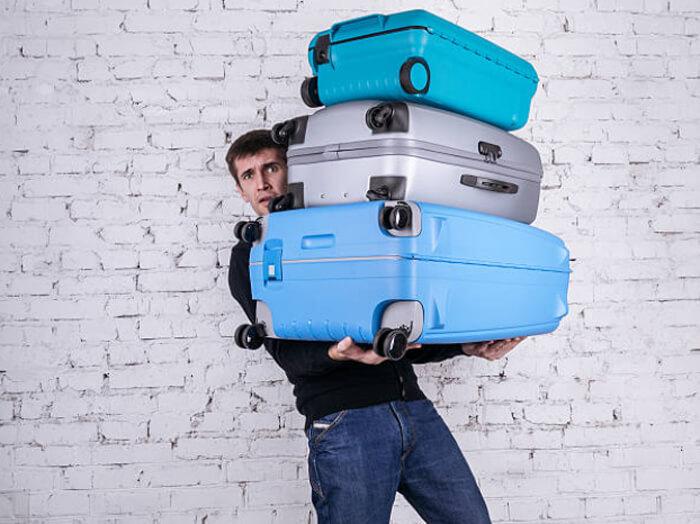 What Should I Consider For A Scale?
Portable scales have the same basic design. A strap connects your luggage to the handheld scale, allowing you to pick up your luggage by the scale to measure weight. This design can have a bit of variation, however, so think about these things when you're choosing.
Materials
The material of the scale can add durability but also add excess weight to your luggage. Plastic is excellent for those of you who are frequently within ounces of the baggage limit and don't want to add any more that could tip the scales. The downside is that plastic is more flimsy and won't last as long as a metal option.
Metal scales are more durable and have a longer life span than flimsy plastic. However, they can be significantly heavier than their plastic cousins, so make sure you leave a bit of room in your weight measurements to account for packing your scale.
Strap Style
The strap should loop around the handle of your luggage, but how that happens can vary. Hook closures are fast and easy, but that hook can sometimes shift if your luggage is particularly heavy. If the hook isn't very durable, it's most likely to break before any other style.
Buckle closures are more secure but can be challenging for multiple bags, adding precious seconds to your packing if you've got a huge load of things to measure. However, this type is less likely to shift or break when weighing very heavy bags or items (in the 100-pound range).
Weight Capacity
Most handheld scales handle weights up to 110 pounds or around 50 kilograms. This gives you plenty of leeway when measuring not only luggage but also other types of projects that need accurate weight. Even if your luggage never reaches that kind of weight, you want the choice to have a wide range of weight capacities without gathering an error message. You never know when you'll need it.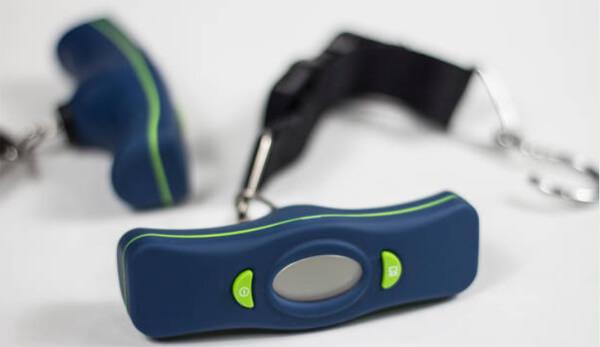 Display Type
A good display helps when you're measuring in a variety of conditions, but bright displays are a bigger drain on the battery. If you're often weighing last minute in the early morning hours when all light is valuable or in conditions outdoors where a low contrast display is impossible to see, spending more on a bright, high contrast display could be a great option.
If you'd rather preserve battery life and usually measure your luggage in your room, a basic display without a lot of battery draining light could be a better choice.
It's essential to balance these two needs based on where and how you most often measure your luggage.
Indicators
A necessary scale just reads the weight, but other indicators may improve the overall functionality of the device. One great indicator to have is a sound alarm that lets you know that accurate weight has been captured. You won't have to contort to figure out if the final weight has been captured.
Other valuable indicators to have are low battery indicators and error messages when something's gone wrong. It helps you make sure your scale is ready to go whenever you need it and lets you know that the weight has been captured accurately.
Auto Shut Off
Preserving the battery is critical because you don't want to have to carry a spare, or worse, hunt down a spare while you're on vacation. Making sure that the device is off helps keep the battery from draining accidentally. Typical auto shut-off times are 30 seconds or 60 seconds, but the options can vary from device to device.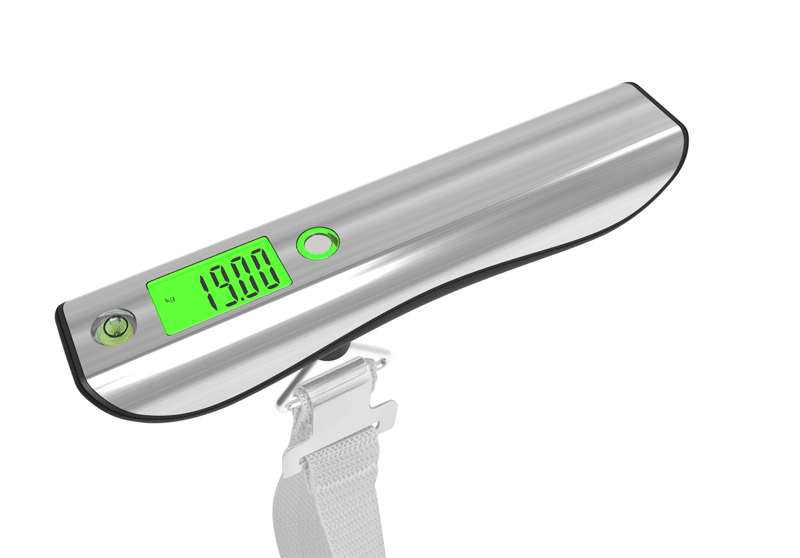 Other Features
Some features could be gimmicks or critical depending on your needs. Several of the scales on our list have temperature sensors, which matter if you're carrying delicate luggage or travel frequently to extreme climates. The temperature sensor isn't a deal breaker for most travelers but consider if it's something that will benefit you.
Other options include a variety of gimmicks (take measure, power bank, for example) but most of those gimmicks aren't worth the extra price or the excess weight of the device. The most significant factor should be a reliable scale with accurate weight features rather than a multipurpose device that's too expensive or doesn't measure accurately.
How Do I Care For My Scale?
To prolong the life of your scale, make sure you take care of it both in storage and in use. Make sure it's always in the interior of the bag in a pocket that's protected and doesn't receive impact from the outside. Consistent impacts can affect the internal hardware that allows your scale to be accurate. Also, protect your scale from extreme temperature changes that can affect the screen or exterior housing.
Condensation can affect the display, so make sure your device is away from humidity and temperature changes. It's essential also to make sure your device is never submerged into water.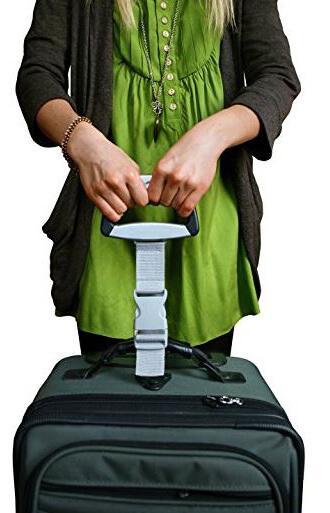 If you plan to store your scale for the long term, remove the batteries so the device doesn't drain them. It can also prevent corrosion or damage to the battery housing while in long term storage.
Storing the scale when you aren't traveling should also be simple. Keep in where you always have it within reach and make sure you always keep replacement batteries on hand, preferably near the device itself, so it's within reach. That way, whenever you need a quick measurement, you can just reach in and have everything you need.
When Can I Use My Scale?
Your luggage scale is excellent for your luggage, but there are other times when having a scale could be a great help. If you weigh packages, for example, you won't be surprised by the post office fees for that box that's heavier than you expected. Also, purchasing produce when you're at the farmer's market could be better if you have a scale that can tell you how much you're getting when you're there.
A scale is a really great tool to have around, and while you may not think you need it now, after some time, you'll probably be glad you've invested in a scale that isn't your bathroom scale. They're easier to read and certainly more convenient to use.
Final Thoughts
Luggage scales are a great way to make sure you never have any surprises at the check-in counter ever again. They're convenient, simple, and help you know if that last souvenir is going to cost you an overage. They're great for making sure you're good to go or that you have extra cash for that special souvenir that's totally worth it.
Make sure you take care of your scale so that it's always ready to go whenever you need it. For most travelers, it isn't the trip to the destination that's the problem. The addition of souvenirs and things from shopping can always put you in danger of spending extra money on the way home, so a scale can help you prepare and never get caught unaware again.
Your scale is your next great travel tool, but it's also a wonderful household feature that can really help out with a variety of tasks. Get one of the ones on our list and never wish you had a better way than your bathroom scale again.