Messenger bags can be used in a variety of settings for both men and women. They can be formal, business and upscale or they can be more casual, trendy or sporty. Using leather tends to make them appear slightly more dressy and luxurious regardless of how they are used, as long as the leather is high quality and is well cared for.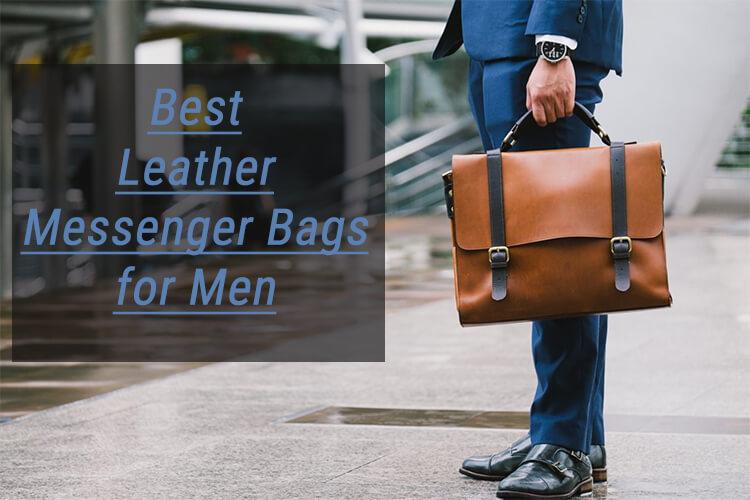 The messenger bag has a number of advantages over other types of bags. Number one is the versatility of these bags. They can be worn over a shoulder, carried like a briefcase or worn as a cross body bag. Since they are available in so many different sizes, messenger bags can be used for everything from day to day carry, as a laptop bag or for light traveling.
It is important to keep in mind the purpose for the bag when making a choice especially if you are going to use it primarily as a laptop bag.
It must be large enough to hold the computer but padded for safety and able to close securely in case the bag falls for any reason. The straps should be strong with quality hardware and durable, reinforced stitching.
It is also important to understand some of the general terminology used for leather goods. All leather comes from an animal hide. "Genuine" leather can refer to virtually any animal. Other types of leather can use confusing names. Crazy horse leather for instance is actually cow hide leather which has been treated with a special wax. It was given this name because it is typically used in saddles and other horse related leather goods. Not all manufacturers list the type of animal hide that is used in their leather and this may not be the most important thing. What is important is the grade of the leather that is being used.
Full or top grain leather is the highest quality that you can get. Reconstituted or bonded leather is the lowest quality.
Finally, when choosing a leather item it is important to remember that because it is a natural product there will be variations from what is shown in photos with listings and what you receive. All leather will darken slightly over time. Most leather will also start to show scratches and other signs of wear and tear which some people believe adds to the character and charm of the item. All leather products will have a smell when they arrive. Airing the item out should take care of the smell. A rancid or overwhelming smell is not normal and may be a sign that something went wrong in the tanning process. This may be an item that needs to be returned.

Best Leather Messenger Bags for Men Reviews
---
Lifewit Leather and Canvas Messenger Bag: Best Messenger Bag for a Budget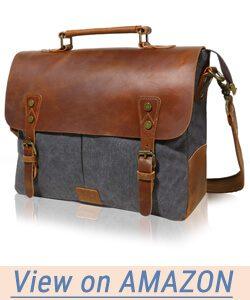 The Lifewit Leather and Canvas messenger bag is available in a grey/brown , a two tone brown which is slightly larger and a dark coffee color.They are made of a rugged wash canvas with crazy horse leather trim. The larger inner compartment has foam padding on the bottom to protect your laptop computer. There are also 2 inner pockets for smaller items. Outside, there is 1 zippered pocket plus 2 larger front pockets.
The shoulder strap is wide for comfort and fully adjustable. It is also detachable if you prefer to carry this bag by the top handle like a briefcase.
Is this a recommended messenger bag?
It is a decent size although, it is always highly recommended to measure your laptop before making any purchase. The style is appropriate for a number of settings from super casual to more professional. The price is a huge selling point for this bag as well.
Pros
Very good price
Stylish design
Plenty of pockets for organization
Cons
Design is not convenient for someone on the move. You can't reach in the bag while you are wearing it, for instance
Some people noticed that the zipper scratched their laptops
KPL 18 inch Rustic, Leather Messenger Bag: Best Small Company Bag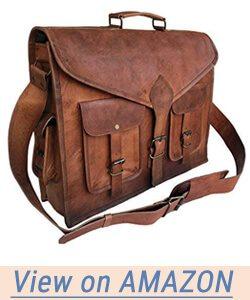 KPL or Komal's Passion Leather (also known as KomalC and Passion Leather) is a small, family run business located in Chicago. Originally from Tennessee, the company made the move up north in 2012. They use quality leather and 80% of each of their items is handcrafted. This rustic looking bag is 100% genuine leather outside with a lightweight canvas lining. The interior computer section is padded. There are 2 additional interior sections with zippers. The exterior of this messenger bag has 1 zippered pocket on the rear, 2 front pockets and 2 side pockets.
There is an adjustable, removable strap as well as a top handle allowing you to carry this as a messenger bag, a crossbody bag or as a briefcase.
Is this a recommended messenger bag?
It is always satisfying to buy from a smaller company especially one that you know makes the effort to do things the old-fashioned ways. This is a larger sized bag, probably capable of holding the average laptop with ease.
Pros
Small, family owned business
Majority of each bag is handcrafted
Full grain leather without any lacquer or cover of any kind
Versatile bag can be used as a messenger, crossbody or briefcase
Cons
Few complaints about the leather odor which can be resolved by airing the bag out for a day or two
Polare 17″ Full Grain Leather Messenger Bag: Best Calf Skin Bag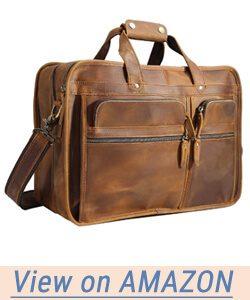 Available in light or dark brown as well as in black, this soft calfskin messenger bag combines top quality materials with lots of organizational features. The shoulder strap is fully adjustable and removable and comes with padding to make it more comfortable for long distance carrying. Two handles on the top give you a secondary option for carrying.
Pockets and Other Features
The interior of this bag has several zipped compartments including two different sizes with padding for laptop computers and other delicate items. Another, smaller interior compartment can be used for other items. There are three zipped pockets on the exterior as well and can be used for items ranging from your cell phone to documents and identification and more.
There is a wide strap along the backside of this bag which allows you to slide it onto the handle of your other luggage.
Is this a recommended messenger bag?
This bag does have a high quality appearance and the soft feel of genuine calfskin leather which is perfect for those who want to keep up appearances while they travel. It has the organizational features that good bags should have as well as the ability to carry it in several different ways.
Pros
Soft calfskin
Many pockets for organization
Padded pockets in 2 different sizes for laptops and more
Cons
Fairly Pricey
There are some reports of zipper problems
Customer service is not consistent
Samsonite Colombian Leather Flap Over Bag: Best Minimally Treated Leather Bag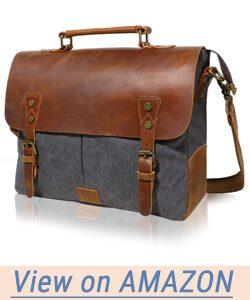 Samsonite has been making bags, luggage and similar items for more than 100 years. This messenger bag is available in brown, black with chrome and tan. Each is made with minimally treated cowhide leather so that all of the imperfections and characteristics are allowed to show. It will hold a laptop up to 15.6 inches in the padded compartment. There is also a zipped rear compartment and a removable cell phone compartment. The strap is padded, adjustable and removable. The top handle is leather wrapped.
There is a three year warranty on this messenger bag.
Is this a recommended messenger bag?
Samsonite is a very well known and highly trusted name in this industry. The bags are well made and do hold the average sized laptop without problem. Reported problems with some of the straps means that they should be inspected but do not detract from the overall positives of this messenger bag.
Pros
Versatile bag can be worn as a messenger, crossbody or as a briefcase
3 color choices
Minimally treated cowhide leather lets the true natural characteristics show through
Cons
Straps may fray or come loose
Hardware may break
Customer service is not what you would expect from a long established company
Magnificent 16 inch Vintage Messenger Bag: Most Water Resistant Design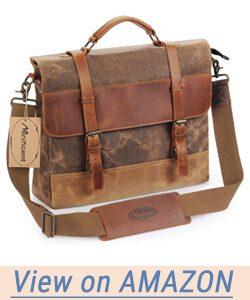 This messenger bag is available in three colors (brown, blue and gray). It is made of waxed canvas which is highly durable and water resistant. The trim is crazy horse leather. The shoulder strap is adjustable and detachable. A top handle is also available for those who would prefer to carry this bag as a briefcase. In addition to the main compartment there are small wall pockets plus one, zipped pocket inside.
It is important to note that water resistant does not mean water proof and that water can still damage the leather components of this bag.
Is this a recommended messenger bag?
Because of the design, this messenger bag is more on the casual design so it would be good for a student or for someone who works in a less formal office setting. It is durable and does hold the common sizes of laptops.
Pros
Color choices
Decent price
Waxed canvas is a durable material
Versatile strap
Cons
The zippers are not high quality and can snag, jump the track or get stuck
KomalC 15 inch Retro Buffalo Hunter Leather Messenger Bag: Best Buffalo Leather Bag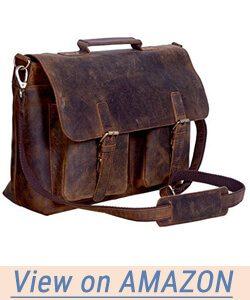 KomalC, a small, family managed business in Chicago prides itself on making handcrafted leather goods using the best hides. The company also uses a three point check system before any item leaves to assure the highest quality.
This messenger bag is made of buffalo hunter leather which is the hide from a buffalo. These hides are not stretched out during the tanning process so that they are thicker and more durable than traditional cow hide leather. The lining is canvas. All fittings are heavy duty brass and YKK zippers are used on every bag.
There is an adjustable, removable strap as well as a top handle on this bag.
Is this a recommended messenger bag?
KomalC, aka Passion Leather, KPL and Komal's Passion Leather specifies that 80% of the work on every bag is done by hand. The company sells a variety of bags in a range of leathers including buffalo hunter. Buffalo hunter is often referred to as simply "hunter" leather. It is a thicker, slightly heavier feeling type of hide which creates a bag that will last.
Pros
Buffalo hunter leather is thicker and more durable
Top quality, handmade processes and a 3 point quality check ensure that items are free from defects
Heavy duty brass fittings and name brand zippers
Cons
Color from this bag may bleed through and stain light colored material
Bostanten Leather Briefcase: Best Bag With Multiple Size Options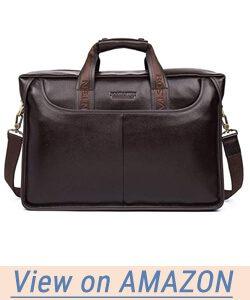 So far, most of the messenger bags on the list have been available in one size, one color. This bag from Bostanten comes in either brown or black and in three size choices (Small, medium and large). The large bag holds a 17 inch laptop. All sizes have a polyester lining and use brass alloy hardware. The basic design of all three sizes is the same: 1 large inner compartment with a zip closures, 1 cell phone pocket and 1 additional zipper pocket inside. There are also two exterior pockets, 1 with a zipper and the other with a magnetic snap closure. The strap is adjustable, detachable and is made of nylon.
Is this a recommended messenger bag?
Because there are three sizes to choose from it is important to measure the laptop that you plan to carry in this bag before ordering. It is a handmade bag with a good design and all of the pockets and organizational features you would expect from a messenger bag.
Pros
3 sizes to choose from
2 color choices
Handmade
Cons
The nylon shoulder strap is the least durable thing about this bag
Zippers often snag and catch
Viosi Messenger Bag: Best Bag with a Bonus Gift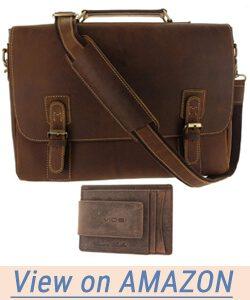 The Viosi messenger bag comes in three styles: black, hunter (buffalo hide) and rustic hunter. Buffalo hide is minimally treated to prevent color transfer and provides durable, long lasting bags. The strap for this bag is updated and improved from previous designs so that it is stronger.
Organizational Features
The main compartment is padded for protection and features a velcro strap to secure your laptop or other belongings. The interior also features an additional zippered pocket and 2 pen holder slots. Under the flap is an organizer with 2 large pockets, 1 smaller, passport slot with a snap and 3 pen holder slots. There is 1 large zippered section on the back of this bag.
Bonus Features
In addition to the organization, there is RFID protection in this messenger bag. This shields credit cards and other identification cards from being remotely scanned by identity thieves. As a special gift, Viosi is including an RFID money clip which can be kept even if the bag is returned for any reason. The company offers a lifetime replacement warranty on this messenger bag.
Is this a recommended messenger bag?
With lifetime replacement and the bonus features, this bag might be worth the slightly higher than average price tag. The RFID protection is a big bonus and the organizational features are a great touch especially for busy, on the go people of all age groups.
Pros
Buffalo hide is thicker and more durable than cowhide
Improved strap design
Plenty of organization
RFID protection plus bonus money clip
Lifetime replacement warranty
DHK 18 inch Handmade Messenger Bag by Cuero: Best Larger Sized Messenger Bag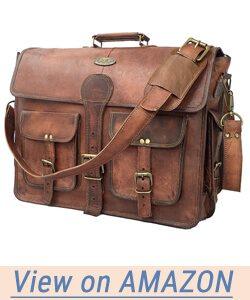 Made of goat hide leather, this is one of the largest messenger bags on this list and will hold virtually any lap top in the padded, zipped pocket. The bag has an adjustable, detachable shoulder strap as well as top handle so that you can choose how to carry it based on your needed for that day.
Is this a recommended messenger bag?
If your need is for a large bag, this may be an okay solution however, there are plenty of negatives that must be noted here. The most serious of these is the knowledge that the company may be offering bribes to people to remove less than stellar reviews. Offering a gift or even a discount to people to make something right is one thing but to blatantly say the gift is to remove or change a bad review is another.
Cons
May not be as durable as other bags
Exposed stitching and other design flaws
Cheap hardware is prone to breaking and makes the bag look cheap as well
Bribes for removing negative reviews is troubling if true
Handmade World Messenger Bag: Best Goat Hide Messenger Bag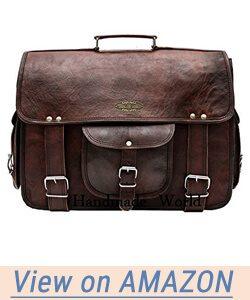 The handmade, distressed style messenger bag by Handmade World is offered in three different sizes but only one color. The basic design of this goat hide messenger bag is the same for all three sizes and includes a padded computer compartment, 2 zippered pockets inside, 1 small pocket in the front of the bag and 1 on each side.
Is this a recommended messenger bag?
Having three sizes to choose from is a great bonus. It is handmade and created to have an already distressed, hard-traveled look when it arrives. This may make it too casual for some business settings.
Pros
3 different sizes
Plenty of organization pockets to work with
Handmade
Cons
Customer service is not responsive for this company
Straps are sometimes an issue and may break
PL 16 inch Vintage Messenger Bag: Best Customer Service/Small Business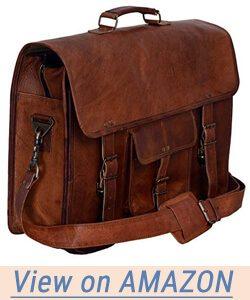 PL or Passion Leather is one of the labels used by Komal's Passion Leather, KPL, or KomalC. It is a family run business in Chicago, Illinois. All of the items they sell are handmade.
This leather messenger bag will hold a 15.6 inch laptop. The exterior is 100% genuine leather while the interior is heavy duty, olive green canvas. It has 1 big front pocket on the outside as well as a slightly smaller zipper pocket on the back. Inside, there is a large compartment for the laptop, 2 smaller inner pockets and 2 zipped inner pockets.
Is this a recommended messenger bag?
All of the bags made by this company are 80% handmade and are designed to be attractive and long lasting. Customer service is one of the major strengths of this company as well and they pride themselves on taking excellent care of all customer complaints and concerns.
Pros
Handmade
Leather exterior, canvas interior
Excellent customer service
Cons
Some people complained about "odor" which can usually be remedied by allowing the bag to air out for a while
Vaschy Vintage Messenger Bag: Most Color Choices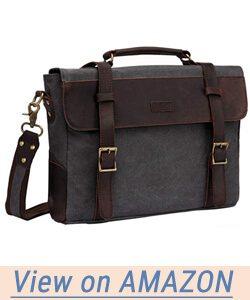 Most leather messenger bags come in one of two colors: black or brown. This one, a combination of cowhide leather and waxed canvas comes in a number of color choices including 4 distinctive shades of gray, a blue, a darker blue and camel. There are also two full leather options, one in black and one in coffee.
All come with an adjustable leather flap and an adjustable strap. Inside is a main compartment and a zippered pocket while outside there are 2 front pockets and a pocket in the rear of the bag.
Waxed canvas is water resistant but the bag should still not be subjected to wet conditions.
Is this a recommended messenger bag?
The 2 all leather versions of this messenger bag are more upscale in appearance (and price) but do have a more professional look to them. The others are a bit more casual and may not have the right look for someone who works in an office or someone whose ambitions are to move ahead.
Pros
Plenty of color choices including 2 all leather versions
Waxed canvas is water resistant
Cons
These are not durable bags and the quality tends to be poor
Customer service is not responsive to complaints and concerns and rarely honors the 1 year warranty
Mantobruce 15 inch Messenger Bag: Widest Selection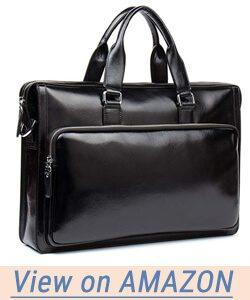 Mantobruce has 3 colors of their messenger bags. The black comes in 4 styles and sizes, the orange brown color is available in 2 styles and the deep coffee color comes in one. All are cow leather and feature 1 main compartment inside with 1 additional zippered pocket and 2 slip pockets. The exterior has a front zippered pocket and 1 back pocket with a button closure.
Each style has a different strap configuration with some having both a top strap and adjustable body strap while others have just one strap.
Is this a recommended messenger bag?
If you want to find something other than the same, floppy, unstructured messenger bag one of the of this bag may work for you. The colors are a nice touch and look natural unlike some of the more heavily dyed leathers that end up giving away a bit of quality just to be on trend.
Pros
Various styles to fit a variety of needs
Three color choices
Cons
The straps on some styles can be a problem
Estalon Leather Messenger Bags: Best Variety of Leather Types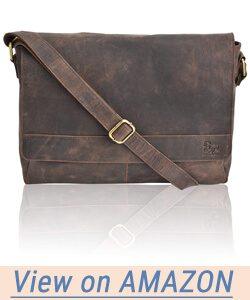 Estalon's leather messenger bags are available in several types including a brown crazy horse, a smooth black leather, a smooth tan leather and a brown hunter leather in the larger size. The others are available in the 16″ size while the brown hunter bag is an 18 inch bag.
All of the bags have a padded main compartment plus 1 zipped and 2 inner wall pockets. The bag also has RFID blocking and a pen holder. The exterior features two large front pockets. There is an adjustable, leather strap. This bag does not have a top handle.
Is this a recommended messenger bag?
This is a good messenger bag if you only plan to carry it that way. Since it lacks a top strap or handle there is no other way to carry it which can be a problem if the strap breaks. Unfortunately with this bag, that seems to be a frequent complaint. It does have the advantage of offering a larger size which can be a bonus.
Pros
Several styles to choose from with different colors, sizes and leather types
Large 18″ size bag is one of the largest on the market
RFID blocking
Cons
No top strap or handle
This may not be a very durable bag
Straps are a problem
Rustic Town 15″ Messenger Bag: Best for the Environment

The Rustic Town messenger bag comes in an all leather (brown) style or a peanut brown and gray, canvas and leather trim bag. Both use goat leather that is created using a 100% environmentally friendly processing. Both styles have an olive green, heavy duty canvas lining. These bags have an adjustable shoulder strap that does not detach. The flap fastens in front with magnetic snaps.
Is this a recommended messenger bag?
Both styles have goat leather which some people say has a very bad odor. In most cases, a leather bag with an odor can be addressed by a few days of airing out. The complaints related to this bag state that airing for weeks or even months does not remove or lessen the offensive odor so use caution. The basic style is functional and it appears to be an attractive bag at a decent price. However, be sure to measure your laptop because this bag is on the smaller side at only 15 inches.
Pros
Environmentally friendly processing
Two styles to choose from
Cons
Smaller bag than most
Offensive odor may not disappear with airing and time
Customer service is not very good for this company
Kattee Crazy Horse 14″ Leather Messenger Bag: Best for Organization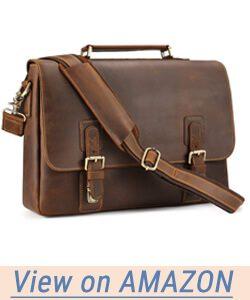 The Kattee messenger bag is slightly on the smaller side at only 14 inches but packs plenty of organization. The interior of this bag has a large zipped compartment, a smaller zipped pocket in the wall, 2 additional open pockets and 2 pen holder slots. The front of the bag has 2 front flap pockets that have push button closures and buckles for decoration. The back of the bag has another zipped pocket.
The bag is crazy horse leather with a leather top handle plus an adjustable, detachable, padded strap. All hardware is brass.
Is this a recommended messenger bag?
While it is small, this is still a casually, stylish bag with plenty of function as well. It is versatile and would be great for school or a relaxed workplace.
Pros
Plenty of organization
Versatile bag
Cons
On the smaller side
Pricey for a bag of this size
There are issues with the zippers in some cases
Newhey Canvas and Leather Messenger Bag: Best Customer Service

The Newhey messenger bag is available in brown or grey and is made of crazy horse leather and waxed canvas. The interior is divided with 1 zip pocket and 2 slip pockets. The strap is wider for more comfort and is both adjustable and detachable. There is also a top handle so that this bag can be carried like a briefcase as well.
Newhey offers 1 year return service on this bag and customer service is top notch for this company with rapid response time for all customer questions, concerns and complaints.
Is this a recommended messenger bag?
While not a full leather bag, this is well made with heavy duty, water resistant waxed canvas and crazy horse leather trim. It is less expensive than a full leather bag but still looks work appropriate. Having 1 year return service plus excellent customer service is a very big bonus.
Pros
Excellent customer service
1 year return service
Heavy duty canvas makes the bag more durable
Wide strap helps relieve pressure on the shoulders especially if the bag is heavy
Cons
The hardware on the straps can fail
Jack and Chris Messenger Bag: Best Convertible Briefcase Style Bag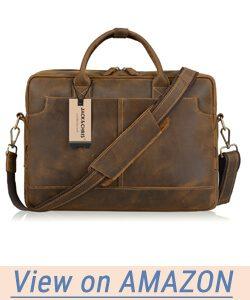 While the body of this bag by Jack and Chris is styled as a messenger bag, it has the double top handles of a good briefcase as well giving you options for how you want to carry it. The adjustable and detachable strap allows you to wear it as a true messenger bag or as a cross body bag as well. It comes in two colors, a brown and a darker brown. Both have 2 large interior compartments plus 2 smaller pockets and 2 pen holders. There is 1 zipped pocket on the exterior of this bag.
This bag is made of crazy horse leather.
Is this a recommended messenger bag?
This is a fairly attractive and highly functional messenger bag. It has versatility that should allow it to be appropriate in nearly any type of situation.
Pros
Available in 2 shades of brown
Detachable shoulder strap and 2 top handles allow you to use this bag in a variety of ways
Cons
Virtually all complaints are in relation to poor customer service for this company
DHK 14″ Leather Messenger Bag: Best Company with a Heart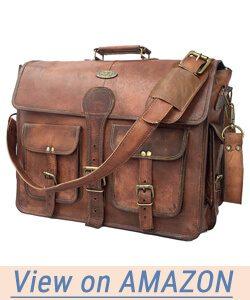 DHK or Devil Hunter Killer gives a portion of all profits to a variety of charity groups. Their 14″ leather messenger bag has three interior compartments including a larger one in the middle. It also has 1 zipped pocket and 1 exterior pocket. The strap is adjustable and detachable and the bag does have a top strap as well.
Is this a recommended messenger bag?
An attractive and versatile bag, the idea that part of the profits will be going to charity is a good thing but beware, there are problems with this bag and this company. The bag itself may have a greasy residue which may be difficult to remove and may stain other objects. The second problem is with inconsistent listings which often contradict things from one part to the next. This bag may also be a lot smaller than it is described in the listings so inspect it before the return period ends.
Pros
Plenty or compartments
Versatility
Charitable donations
Cons
Possible greasy residue
Inconsistent or problematic listings that may mean a bag that is smaller than is needed
RunWindy Leather Messenger Bag: Best Locking Messenger Bag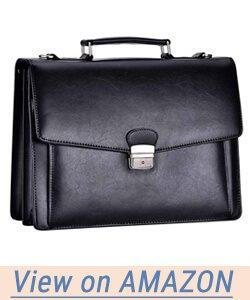 If you were looking for a messenger bag with a big more security, this might be the one for you. This cow split leather bag has several compartments including 2 main compartments inside, as well as 3 zipped pockets, 1 front slip pocket and 1 rear zipped pocket. Once everything is tucked in the proper place you can close the front fastener and lock it. One key is included with this bag.
Available in both black and brown.
Is this a recommended messenger bag?
This is a stylish, highly functional bag with the added bonus of a locking feature. It is appropriate for most office and school settings.
Pros
Lock and key for security
Versatile straps for every taste
Cons
There are few complaints about this bag, however the straps may show wear before the rest of the bag
The Leather Messenger Buyer's Guide
When buying anything made of leather, it is important to know your material. Leather has a distinctive odor which you should be fully aware of before purchasing. This odor may be overwhelming to some people but can be lessened by airing the piece out for a short period of time. If the smell is offensive or overly strong, it may be an issue with the tanning process and the piece should be returned. You should also know that leather darkens over time so the light brown bag you buy today may be a deeper and richer color by this time next year.
There are various grades and types of leather and you should know what you are buying to know if you are getting a good deal or not. All leather should be cared for carefully. There are leather care kits that you can buy but you should always read the care instructions for the piece that you have. Despite some people advising it on the internet, do not use vegetable or olive oil on your leather because these oils will spoil and the resulting smell will ruin your bag completely.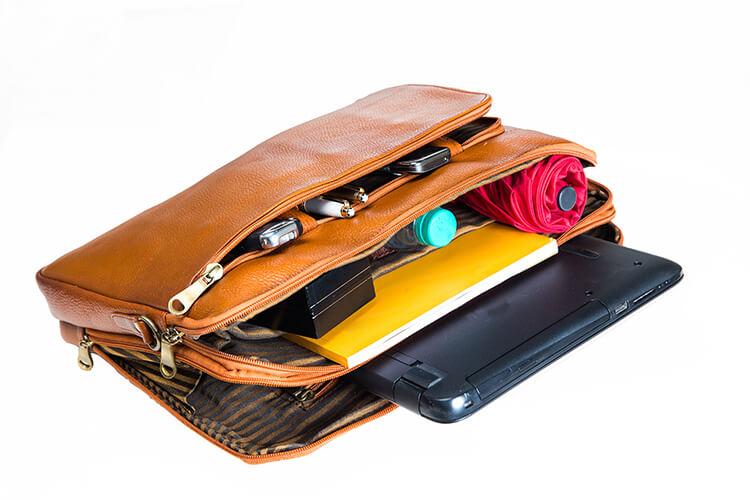 Other things that you should be looking for when choosing a messenger bag:
The right size especially if you are going to be carrying your laptop computer
The right straps for how you are going to carry the bag
Reinforced seams, double stitching, strong zippers and quality hardware.
Leather Grades
Top quality leather is called full grain or top grain. This is the top part of the hide and the most sought after. Expect to pay a premium price for items made of this leather. Embossed grain is the second tier and can be made to resemble other types of hides, especially exotics without the price tag. The lowest grade of leather is called bonded leather. It may also be called reconstituted leather. This is created by taking scraps of leftover leather which is ground up and then pressed into a pattern and then processed. It tends to be stiff and rarely has the leather smell.
Straps
Straps should be made of either leather or very strong, woven nylon. Wider straps are more comfortable and distribute weight more evenly on your shoulder. The straps should be adjustable and if you like to have options, detachable. The hardware used to secure them should be high quality with reinforced seaming so that they do not pull out.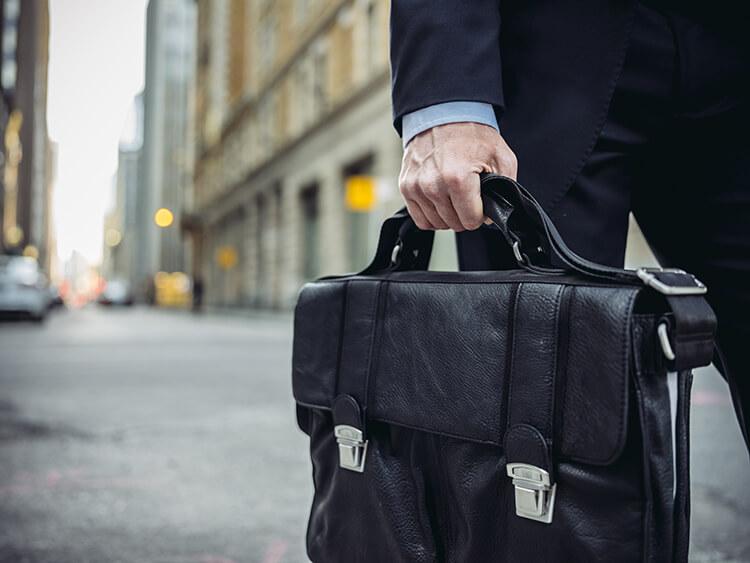 Top handles should be either entirely leather, leather wrapped or designed to look appropriate to the overall style of the bag. Two top handles is best because they feel more secure in hand however, single handles can work as well.
The Interior of the Bag
Your messenger bag can be one big, open compartment or it can be neatly arranged with pockets, slots and other organizational features. If you are using the bag to carry a laptop it should have at least two compartments including one with padding. This will prevent scratches and other mishaps from your pens and other daily needs. The lining material should be fairly heavy duty as well. Waxed canvas is a popular choice because it is strong and durable but does not add too much bulk to the bag.
A good leather messenger bag is an investment. If you choose the right one and care for it properly it will serve you well for many years.